 #GivingTuesday
Double Your Gift. Double Our Voice.
November 27, 2018
Join the Movement
In its seventh year, #GivingTuesday is a global day of giving for nonprofits and charities powered by social media, collaboration and online giving. The EFEPA joined the movement this year and mobilized our community to raise funds so we can raise our voice!
We asked our community to give $26 in honor of the 1 in 26 individuals who will be diagnosed with epilepsy in their lifetime, and 56 friends and families stepped up! Together, we raised $3,903, and thanks to our generous donors, Arthur and Phylis Johnson, all #GivingTuesday gifts were MATCHED – dollar for dollar – until we reached a grand total of $7,806!
Click here to make your gift on November 27, 2018.
The EFEPA will be using the funds raised to expand our outreach through new and creative communication platforms.
Meet Arthur and Phylis: Our Matching Donors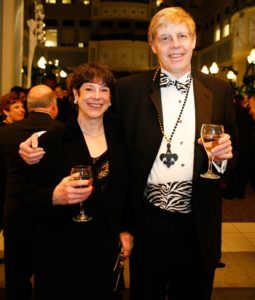 Phylis Feiner Johnson was diagnosed with epilepsy at 12 years old. Amidst the ups and downs of life with seizures, she forged ahead, graduated Magna Cum Laude from Emerson College, built a career as a successful advertising copywriter, and married the love of her life, Arthur P. Johnson.
Together, Phylis and Arthur P. Johnson are award-winning creative professionals, with over 30 years of experience in direct marketing. Arthur has loved photography his entire adult life and now he's doing it full-time, while maintaining the photographic website, ArthurPix.com. Phylis is now a full-time epilepsy advocate, who also maintains an online reference for people living with epilepsy: EpilepsyTalk.com.
Eight years ago, Phylis shifted her focus from her longstanding career in communications and copywriting into creating a space and online community for those with seizure disorders to connect and find support. "After a week in ICU during which my life was saved, I felt I had been returned to the world for a purpose," Phylis explains, "So many worthy causes turned out to be generously supported, but epilepsy stood out as an orphan — a condition that kills millions and ruins the lives of many more, yet receives a tiny fraction of the money and attention it deserves. I knew I had found my calling."
Phylis is an epilepsy advocate, health journalist and founder of the advocacy network, epilepsytalk.com. Arthur has also found purpose in advocating for epilepsy and supporting Phylis in her efforts.
"I have been incredibly fortunate for most of my life and, like Phylis, I now am giving back. No health condition I know of devastates more, yet receives comparatively so little, as Epilepsy," Arthur believes.
Phylis & Arthur's longtime support of the Foundation has allowed the EFEPA to increase its capacity to provide the best possible services for those living with epilepsy. The Johnsons played an integral part in equipping the Camp Achieve Medical Staff with iPads so that they can quickly respond to medical emergencies and manage each camper's needs. They also actively participate in the Foundation's Walk for Epilepsy, Mardi Gras Gala, educational programs and support groups.
The couple's most recent generosity in offering a dollar-for-dollar match for #GivingTuesday will allow the EFEPA to expand community outreach through new and creative communication platforms.
Arthur's message to our #GivingTuesday supporters:
I know I can make a very real difference by giving to the EFEPA, and I can assure you that your own gift will NOT be a drop in the bucket—but desperately needed and greatly appreciated.
Thank you Phylis and Arthur for helping this make this #GivingTuesday a huge success! We are so grateful for your generosity and commitment to our community.
Why Our #GivingTuesday Supporters Donated
"I'm more than 1 in 26…recently diagnosed and the only one in my family (which is huge) with it. Learning this new life. #epilepsyawareness"

– Jennifer
"Didn't actually know I was having simple partial seizures until a couple years ago! During a bunch of doctor visits for an MS diagnosis also led to an epilepsy diagnosis! #DoubleOurVoice #DoubleYourGift #DoubleTheDiagnoses"

– Malarie
"1 in 26 is way too many!"

– Cathy
"Together we can #EndEpilepsy! Stay Brave Warriors!!!"

– Colleen and Bob