Looking for a way to make a difference, take action and get involved with the EFEPA? Hosting a DIY fundraiser is the perfect opportunity to educate people in your direct community about epilepsy and seizure disorders while raising critical funds and awareness!
The more people we can help understand epilepsy, seizure recognition and first aid, the safer and more supportive our communities will become.
Interested in hosting your own DIY Fundraiser? Follow the steps below:
All 'Host Your Own' fundraiser events that benefit the EFEPA MUST be registered.
Please complete the Event Application Form, sign our Terms and Conditions Form and return by email: development@efepa.org, fax: 215-629-4997, or mail: Epilepsy Foundation Eastern PA, 919 Walnut St, Suite 700, Philadelphia, PA 19107, Attn: Development.
We ask that you please do not move forward with your plans until you have submitted your application and have been contacted by our Development Team. If approved, don't forget to send us a summary of your event's success and include any photos that you took!
All checks should be made payable to "Epilepsy Foundation Eastern PA or EFEPA"
All proceeds should be sent to:
Epilepsy Foundation Eastern PA
919 Walnut Street, Suite 700
Philadelphia, PA 19107
Attn: Development

We know fundraising can seem like a daunting task – but don't worry! A good place to start is by determining the goal of your event (but be practical with your goals!) Ask yourself: How much do I want to raise? How many people do I think will attend? How will I go about inviting/recruiting people to attend?
Next, set a date, time and location for the event with a corresponding schedule. The best events take time to plan, so start early! Recruit an appropriate number of volunteers to help you execute the event smoothly. Don't hesitate to contact us with questions, or if we can provide any helpful materials.
One great way to increase your efforts is by planning a creative fundraiser event based around your interests. You name it, people have turned their hobbies into creative events to benefit the EFEPA and our local epilepsy community.
Here's some ideas of events your fellow all-star Epilepsy Champions have hosted in the past:
Host a donation based yoga class, spin class, barre class, or whatever type of fitness class you're into!
Host a happy hour or guest bartend at your favorite local watering hole! Work with the establishment to sell wristbands or have a percent of the evening's proceeds benefit your fundraising efforts. Put donation boxes around the restaurant for any local patrons who might be feeling generous as well.
Organize a donation based bowling night at your local bowling alley.
Host a wine & cheese night at your home! Ask your friends to bring $10 to donate.
Organize a "Jeans Day" at your workplace. For anyone who donates $5, they'll be allowed to wear jeans to work that Friday.
Have a good old fashioned bake sale! Get your friends together to bake their best dessert and sell them locally.
Organize a week-long change collection at your kids' school. That pocket change adds up quickly!
Host a Paint Night party. Work with one of the local organizers to invite your friends out for some wine and painting with a percentage of the class fee going to your fundraising page.
Instead of accepting gifts at your next birthday or special event, ask your friends and family to make a donation towards the EFEPA.
Put on a car wash, a true fundraising classic! Reserve an area and host a car wash in your neighborhood.
Host a poker tournament (or go-fish, whichever you prefer!) in your neighborhood or with friends. "Buy in" price can be the donation from each person.
Who doesn't love board games? Invite your loved ones over to play games and charge an "Entrance" fee.
To make your event as successful as possible, we recommend spending a considerable amount of time on promotion. Post on your social media networks like Facebook, Instagram, LinkedIn and Twitter; print out flyers and posters to distribute locally; send out targeted one-on-one emails to family and friends; or advertise the event on public websites like Craigslist.org, Eventsetter.com, Eventguide.com, Philadelphia.com, Philadelphiaweekly.com, and citypaper.net
And, don't forget to talk about your event (and epilepsy!) as much as possible to take advantage of Word-of-Mouth advertising!
Meanwhile, do outreach for sponsorships. Consider sponsors that make sense for your event. Start with businesses that you frequent or might have a natural interest in your event. Focus on local businesses instead of large corporations who are often difficult to reach and involve. Consider your needs and expenses while contacting potential sponsors; many items can be donated by local businesses that would like to help with your cause.
Some possible needs to consider include:
Venue
Food & Beverage
Floral & Decorations
Raffle & Silent Auction Prizes
Participant Party Favors
Tables, Chairs, Linens
Other Rentals
Audio & Visual Equipment
Photography
Permits & Insurance
Printing & Mailing
Lastly, know your facts about the EFEPA and epilepsy/seizure disorders. A good place to start is visiting our "Epilepsy 101" page for facts and figures. Sponsors, media and event attendees will want to know about the cause. A very important part about hosting an event is not just raising money but to also raise awareness! We are here for you to provide the supporting materials, flyers and handouts you need to help educate your attendees.
Need some inspiration for your own DIY Fundraiser event? Check out what some of our Epilepsy Champions are organizing and doing in the community! Want to share your fundraising feats? Send your story and/or pictures to Melissa at mfairchild@efepa.org
---
Alex Courtney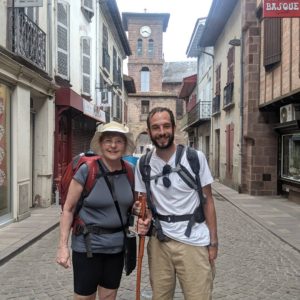 Epilepsy Warrior Alex Courtney is putting on his hiking boots for the EFEPA! To raise critical funds and awareness for our local epilepsy community, Alex is walking El Camino De Santiago, a 500-mile hike abroad. The pilgrimage will span over six weeks and will take him through the countryside of France to Spain. Joining him on this journey is mom, Jan Courtney.
Here's what Alex has to say about his journey:
Once every 4 minutes, on average, an individual is diagnosed with Epilepsy in this country. I was diagnosed years ago but rarely ever address it. I am taking this time to address this neurological disorder now because of the journey I am about to take.

For me, the problem with suffering from epilepsy is that it isn't apparent until it happens. It is a difficult subject for me to bring up because I always feel like I'm being a burden on those around me. But by not addressing the disorder, it gets swept aside.

More people suffer from epilepsy than multiple sclerosis, cerebral palsy, muscular dystrophy, and Parkinson's combined. Yet epilepsy gets less federal research funding than all of those ailments by themselves.

So I have decided to do something about this.