The Highmark Walk for a Healthy Community is an annual fundraising event that benefits local health and human service agencies. This year the EFEPA is excited to be a charity participant! Mark your calendars: Saturday, May 30th 2015 at DeSales University. Join our Team to raise funds for services in the Lehigh Valley and meet others in your area impacted by epilepsy. 
Over the years we've watched our Summer Stroll community grow to over 1,400 participants. However, the EFEPA recognizes that it isn't always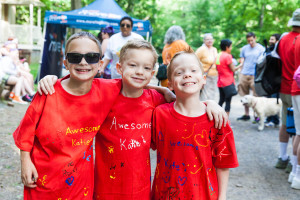 feasible to travel all the way to the Stroll. That's why we're thrilled to participate in the Highmark Walk in the Lehigh Valley area to help further foster the community.
We sincerely hope you'll join us for a beautiful Saturday in May to generate awareness about epilepsy, raise funds for crucial support services and reach out to others impacted by seizures. You can sign up for the Epilepsy Foundation Eastern PA's team by clicking here. All registered walkers who raise or donate $25 will receive a Walk for a Healthy Community T-shirt while supplies last. For every $50 that you donate to the EFEPA, you will receive one chance for raffle prizes valued at more than $1,000.
The inaugural Walk for a Healthy Community took place in Pittsburgh, in 2003, and raised more than $25,000 for eight nonprofit organizations. Additional walks have since been added in Lehigh Valley, Erie, Harrisburg and Johnstown, Pennsylvania, and in Wilmington, Delaware. Through 2014, the events have raised more than 7.8 million dollars for 250 plus nonprofit organizations across the states.
Questions about participating? Visit their website by clicking here. or contact Ellen Baca, Lehigh Valley Coordinator at lv@efepa.org or by phone, (610) 737-0613.