Thank you for your interest in writing about epilepsy and the Epilepsy Foundation Eastern PA. Your efforts will help us achieve our goal of creating greater epilepsy awareness. This page gives you access to information about our organization, epilepsy and press releases.
About Epilepsy 
Epilepsy is a brain disorder that causes seizures, which is a change in the normal brain activity. There are over 40 types of epilepsy with different causes and different types of seizures. A person can develop epilepsy at any age, at any time. In fact, according to studies conducted by the Center for Disease Control 1 in 26 Americans will be diagnosed with epilepsy at some point in their life. For 30-40% of the population, they will live with active seizures because no available treatments work for them. 3.4 million adults and children live with active epilepsy across the United States.
Our Mission
To stop seizures and SUDEP (Sudden Unexplained Death in Epilepsy), find a cure and overcome the challenges created by epilepsy through efforts including education, advocacy and research to accelerate ideas into therapies.
Who We Serve
We serve individuals and families affected by epilepsy/seizure disorders. Our primary areas of service include Philadelphia, Allentown, Wilkes-Barre, Scranton, and Lancaster. The combined population of our territory is over 6 million. The Center for Disease Control states that at least 1.65% of the population has epilepsy/seizure disorders. Thus, in the 18 counties we serve, 110,000 people have epilepsy. However, many more are significantly impacted by epilepsy in their daily lives when you include family members, caregivers, and friends in the total.
Our programs include one-on-one consultations, support groups, educational conferences, rural outreach, first-aid training's for schools and first responders, and Camp Achieve-a summer camp for children age 8-17 with epilepsy.
All of the Counties we serve: Berks, Bucks, Carbon, Chester, Delaware, Lackawanna, Lancaster, Lehigh, Luzerne, Monroe, Montgomery, Northampton, Philadelphia, Pike, Schuylkill, Susquehanna, Wayne, Wyoming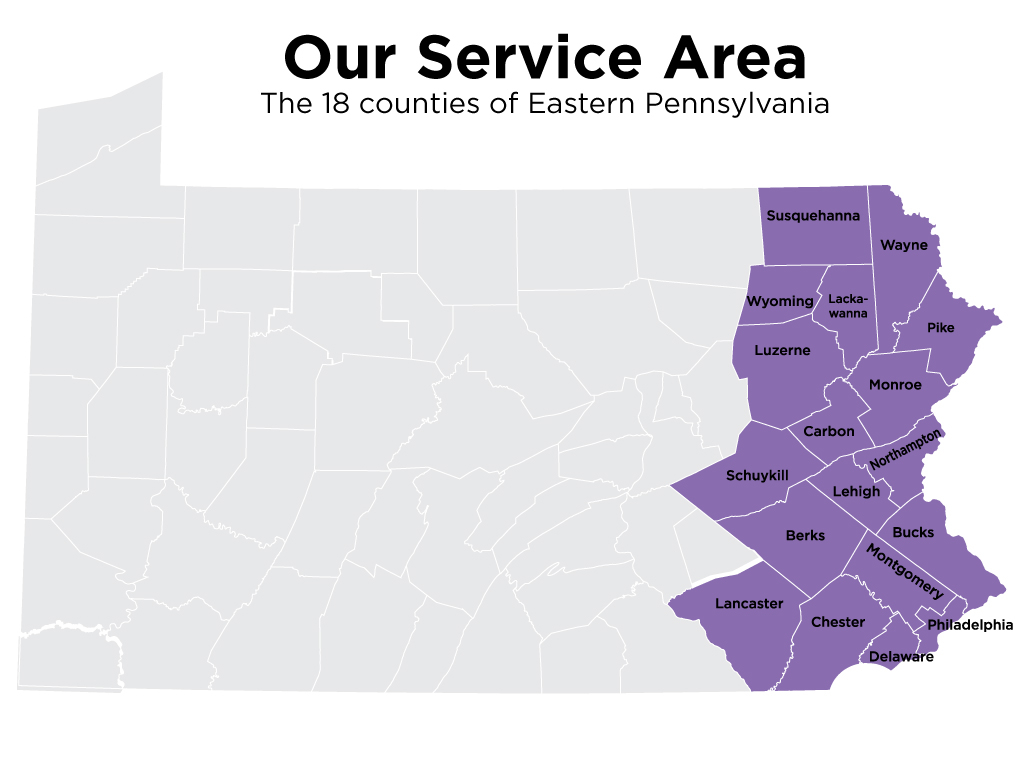 Our History
The Epilepsy Foundation Eastern Pennsylvania was founded and incorporated in 1972 by Charley Roach, his family, Richard Harner, M.D., a neurologist, and other families who saw the need for information and referral beyond the medical aspects of the disorder.
Originating as the Epilepsy Foundation of Philadelphia, the name was changed to Epilepsy Foundation of Southeastern Pennsylvania in 1992 to better reflect the eleven-county area served by the foundation.  In 2001, through the foundation's national office and the Pennsylvania Department of Health, the organization's name was changed to the current Epilepsy Foundation Eastern Pennsylvania to allow us to add to our service territory, seven (7) counties in the northeastern region of Pennsylvania.
Media Contact
Missy Dolaway
development@efepa.org
215-629-5003 ex. 107
Press Releases