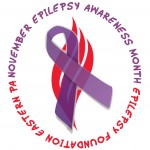 November is National Epilepsy Awareness Month and the Epilepsy Foundation Eastern Pennsylvania is spreading the news and asking our 18 counties to join us in awareness.
The EFEPA organized many ways you can participate in National Epilepsy Awareness Month. We will be kicking off the month with an awareness campaign, including Philadelphia's skyline going purple, a billboard on 95 South and daily status' on the EFEPA Facebook page. Ask a friend to attend the EFEPA's annual Exchange on November 3rd, a support group, or a 3rd party fundraisers held throughout the region. Regardless of how you participate, you will be joining us in the fight against epilepsy.
Check back on this page for updates throughout November.
Buildings Lit up in Purple in November:
Two Liberty Place – All Month
Ben Franklin Bridge – Nov 12- 16 and 18-21
Cira Center – Various days throughout the Month
National Constitution Center – All Month
PECO Lights – Nov. 13-15
Philadelphia College of Osteopathic Medicine – All Month
Police Headquarters – All Month
Keep checking back as we hope more buildings will get involved.
Media
Lettor to the Editor: One effective way to share your story is to write a letter to the editor of your local paper. Use this template and edit it to make it your own! Be sure to add details about how epilepsy has affected you.
Social Media in November
During the month of November, the EFEPA will be conducting a social media campaign to raise awareness of epilepsy and awareness of the foundation's programs.  Each day, several posts will be made to the foundation's twitter and facebook accounts.  These posts will show support, give encouragement, and provide facts about epilepsy.
It is the Foundation's hope that those who follow our social media accounts will participate by adding comments and photos to the daily posts, as well as sharing our posts on their own pages.  This interaction helps to create an active online community as well as spread the messages across various social online connections.  Through this social media campaign, individuals and families who may have never heard of the EFEPA or its programs can be exposed to epilepsy facts, community action, and the programs that the EFEPA offers!
If you aren't following us on our social media pages start today!
Facebook: www.facebook.com/EpilepsyFoundationEasternPA
Twitter: twitter.com/EFEPA
Pinterest: pinterest.com/efepa/
You Tube: www.youtube.com/user/EpilepsyfoundationPA
Throughout the month, we will be posting facts/statements about epilepsy and seizures that we want you to repost and share.
3rd Party Awareness and Fundraising Events
CHICK-FIL-A,  in Audubon, will be donating a portion of their proceeds to the EFEPA when you join them on November 13th from 5:00-8:00 PM.
Thanx Hair Artistry, in Reading, will be offering purple extensions and purple mani/pedi's for Epilepsy Awareness Month.  Proceeds with benefit the EFEPA.
Center Stage Salon, in Lancaster will be donating

20% of purple mani/pedi's and purple hair services to the E

FEPA during November.
Salon Avanti, in West Reading, will be donating 50% of the proceeds from purple hair strands, and purple manicure and pedicure services for Epilepsy Awareness Month.
Lords & Ladies Salons, throughout the Philadelphia Suburbs, will be donating $10 to the Foundation for each purple hair extension that is sold throughout the first two weeks of November.
Chamaeleon Boutique and Painting With A Purpose, in Ambler, have teamed up to raise funds to benefit the Epilepsy Foundation of Eastern PA on November 11th.  50% of the event's proceeds will benefit Epilepsy Foundation of Eastern PA.
5th Annual Bowl-A-Thon "Strike Out Epilepsy", held at Chacko's Family Bowling Center, in Wilkes Barre, PA will be held on November 11th. Entrance fee is $15 per person. Contact Kathleen Gill for more information. (570) 256-7823.
Interested in holding your own 3rd Party Fundraiser. Visit our 3rd Party Fundraiser page to learn how you can host your own event!
Support Groups
Berks County: November 8, 6:30 pm
Bucks County: November 1, 6:30 pm
Hazleton, Scranton and Wilkes-Barre: November 14, 2012 – Celebrate November Epilepsy Awareness Month with the support group members of Hazleton, Scranton, and Wilkes-Barre, at Grotto's Pizza at the Wyoming Valley Mall in Wilkes-Barre, 7pm.

Lancaster: November 21,  6:00 pm.
Lehigh Valley: November 8, 6:00 pm