View more photos: 2017 Walk for Epilepsy Philly | 2017 Walk for Epilepsy NEPA | 2017 Walk for Epilepsy Lehigh Valley |2016 Walk for Epilepsy Philly | 2015 Summer Stroll | 2014 Summer Stroll | 2013 Summer Stroll | 2012 Summer Stroll | 2011 Summer Stroll | 2010 Summer Stroll | 2009 Summer Stroll | Summer Stroll 2008
 Registration for the 2018 Walks for Epilepsy will open on February 1st.
Many of you have participated in the annual Summer Stroll for Epilepsy, held in Fairmount Park in Chestnut Hill, PA. With each year that we've grown and welcomed more walkers, we have listened to your feedback and decided it was time to expand our footprint! Together, these events will cover nearly 10 miles—hence our decision to name them the Walks for Epilepsy. As always, these walks are free and open to the public.
Thank you to everyone who participated in the Walks for Epilepsy Pennsylvania in 2017! It is an incredible experience to partner with you to host 3 walks throughout the area to raise awareness and funds for epilepsy in Philadelphia, the Lehigh Valley and Northeastern PA.
The 3rd Annual Walk for Epilepsy, Northeast PA will be held at PNC Field on May 19th, 2018. The 2017 walk brought together over 300 people to circle the iconic stadium where our own Scranton/Wilkes-Barre RailRiders play!
Special thanks to our 2017 sponsors: Times Leader Media Group, Supernus, LivaNova, Eisai, Kuharchick Construction Inc., WBRE Eyewitness News, Lamar Billboards, Toyota Scranton, UCB, Neuropace, MetLife, and AmeriHealth Caritas Pennsylvania.
Registration for the 2018 Walk will open at  www.epilepsywalknepa.org on February 1, 2018.  Questions? Contact development@efepa.org.
We will again participate in the Highmark Walk for a Healthy Community with Team EFEPA at DeSales University on June 2nd, 2018. In 2017, over 100 individuals impacted by epilepsy joined us in our 3rd year at Highmark. We were especially proud to break our on-line fundraising goal of $10,000 by reaching $13,800 in donations from teams and individuals for a total gross of $17k.
Special thanks to our 2017 sponsors: Lundbeck, East Amboy Sprinkler Systems, Eisai, Neuropace, KMB Plumbing and Electrical, UCB, St. Luke's Center for Neuroscience, and Hope's Travel Desk.
Registration for the 2018 Walk will open at www.epilepsywalklv.org on February 1, 2018! Questions? Contact Ellen Baca, lv@efepa.org.
NEW LOCATION!!! The final walk in our 2018 series is the Walk for Epilepsy Philadelphia (aka the Summer Stroll) on June 24th. Because of the amazing support from the epilepsy community, this walk has outgrown the Forbidden Drive location. The 2018 Walk will be held at Citizen's Bank Park, home of the Philadelphia Phillies. We are excited for the potential this new site bring and can't wait to share the day with you!
Special thanks to our 2017 event sponsors: Penn Epilepsy Center, Supernus, Jefferson Comprehensive Epilepsy Center, Eisai, Sunovion, UCB, Lundbeck, the Spicy Belly, KYW Newsradio 1060 and Neuropace.
A big kudos as well to our in-kind sponsors: J&J Snack Foods, Wawa, Procacci Brothers, Sysco, Costco, Just Born, Sunbutter/Trudi, Promotion in Motion, Acme, Nature's Bakery and Wristband Creations.
Registration for the 2018 Walk will open at www.epilepsywalkpa.org on February 1st.
We hope you'll join us for one, two or all three of these great events! If you have any questions, feel free to contact our Development Department, 215-629-5003 or email development@efepa.org.
Interested in sponsoring the Walks for Epilepsy? Contact Missy Dolaway at mdolaway@efepa.org or 215-629-5003 x107.
National Walk for Epilepsy
Save the date for the 12th Annual National Walk for Epilepsy on April 14, 2018. The 5K walk (3.1) miles takes you on a a scenic route around the tidal basin, past the Jefferson Memorial and loops back around to the Walkers Village. There is a water stop along the way to keep you hydrated on your stroll!
Or, you can participate in the 1 Mile Family Fun Walk loops around the Washington Monument and back to the Walkers Village. This is a perfect walk for those not wanting to do the longer distance.
Keep your eye out for information on how to register and join the movement for epilepsy awareness in our Nation's Capitol!
The Walks for Epilepsy are so important to us because they brings together the entire epilepsy community in a show of support for those impacted by seizures. That's why our theme is "Who Do You Walk For" — to help others learn more about epilepsy and honor those living with it each and every day. One part of this is our Team Spotlights, where we encourage you all to learn a little more about some of the teams you can walk with on Saturday. Read below to meet some of our teams!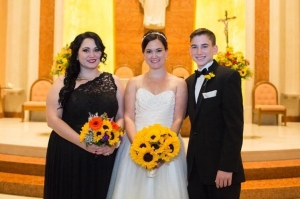 Connor's Crew walks to support my son, Connor. Our epilepsy journey began when he was five years old.
We had been visiting my oldest daughter at college and were on our way home when I glanced in the rear-view mirror to see him taking what I now know as a grand mal seizure. Our family does not have a history of seizures and Connor had always been a healthy child up until that day, so you could imagine how confused and helpless I felt at that point in time. Connor was hospitalized for three days while the doctors tried to figure out what could possibly be wrong with him. Connor was initially diagnosed with Childhood Temporal Epilepsy. We were under the impression for a long time that he would grow out of it. Unfortunately, the seizures persisted and the doctors were unable to find a medication that worked for long periods of time. It was later discovered that Connor has epilepsy as the result of a birth defect which he will never outgrow.
This was something that was difficult for our family to accept and then have to explain to a 10 year old. We were blessed to have Connor's first neurologist provide us with the information for the local chapter of the Epilepsy Foundation. From the moment we got involved with our local chapter, we felt relief. It was so comforting to be around others who understood what we were going through as a family. It introduced us to many resources like the support meetings, awareness events, and Camp Achieve. The Epilepsy Foundation provided information regarding medical research and connected us with people Connor could make a personal connection with to discuss his seizures and medication. We had support when we needed to explain to Connor's school how epilepsy affected his learning. Now, the members of our local Epilepsy Foundation are like family to us.
Connor went to Camp Achieve for the first time last summer. He had really been struggling with becoming a teenager and accepting that he would have epilepsy for the rest of his life. Although Connor has me, his father, and his two sisters to talk about his epilepsy with, he would often say we just don't understand. He would often make comments that he wished he was "normal." After Camp Achieve, Connor came back with a new sense of self. He was more confident and began to accept his epilepsy.
This past November, Connor had VNS surgery. Since he has refractory epilepsy, his doctor felt he was a good candidate for the procedure. Since the surgery, Connor's medicine has been decreased by one pill a day which might seem minor, but the VNS itself has given Connor an increased level of comfortability.
Connor will be going into 9th grade next year. He is a member of the Boy Scouts and active in our church. Despite that I will always worry about his condition and how it affects him because I am his mother, I will never have to worry about him having a support network that can truly empathize with him because of The Epilepsy Foundation. We will be forever grateful for the help that the foundation provides. Connor and the rest of our family hope we can be as helpful to others who are struggling with epilepsy.
We stroll every year for our daughter Brooke, who is an amazing inspiration to our family each and every day.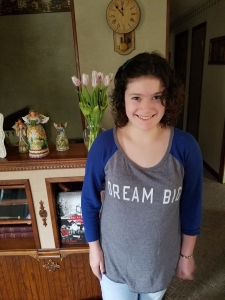 She experienced her first seizure before she was 1 year old, when she had a really bad case of chicken pox and spiked a 104 degree fever.  In the beginning, the doctors thought she was having Febrile Seizures (fever related), and they assured us she would outgrow them.  It wasn't until she was 2-1/2 that she was actually diagnosed with Epilepsy, and for MANY years after that her doctors were unable to find a way to control her seizures.  They kept telling us that it was important for our family to "get back out there" and live our lives just as we had before that first seizure.  I will admit, we definitely had our doubts that this was even possible, because life as we knew it just didn't exist anymore.
Her doctors kept trying new ideas, and like so many other families we've met over the years, we went through a lot of different combinations of medications, trying to find the right one that would work and offer Brooke the least amount of side effects.  I'm happy to say that they were successful in finding that for her.  Of course they couldn't tell us if the control was temporary or permanent, but we knew that our family needed to do something with the opportunity.  It was finally time to allow ourselves a mental and physical "break" from things – and so we decided to hit the road and we've been going ever since!
We've been on this journey for almost 13 years now, but our daughter hasn't let everything that she has been through dampen her spirit at all.  In fact, I think it's made her light shine even brighter!  She has shown me, and everyone else she meets, what it means to truly be "HOPEFUL".  She is 100% the motivation behind the business I've created too, which helps other families, just like ours, get out there and continue to live their lives to the fullest.  She is the "Hope" in Hope's Travel Desk.
We feel very fortunate to be able to be a voice that helps bring attention to the great work that the Epilepsy Foundation does on a daily basis for the many families affected by Epilepsy.  And we always look forward to the opportunity to participate in any event that helps raise funds so that work can continue.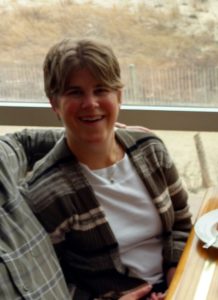 Why I walk for Epilepsy. My daughter Erica was diagnosed with a heart problem at age two.  She was not able to be physically active, but we could adapt her world so she could do so called "normal things". Erica loved school and soon excelled at it, putting time and energy into her studies she could not put into sports. Erica, also, loves to go fast. With the help of Mom, Dad, and her older brother Derek, she liked to ride dirt bikes, snowmobiles, used the trampoline, roller coasters, etc. and took horse-back riding lessons.  A big part of Erica's success was her unfailing positive attitude. She would think about a problem and find a way around it.  After her heart transplant at age 15, we thought "The sky's the limit".  Three days after her heart transplant she had her first seizure that lasted 45 minutes. Because of the medicine they gave to stop the seizure, she needed to remain in ICU and the hospital, than rehab months longer. She lost more than 6 months of memory, and muscle ability, needing to go to physical therapy to stand and walk again.
For almost six years we thought we were free of seizures. Erica finished HS with Honors, started driving and went to college. During the end of her junior year Erica started having what we now know were auras.  Erica stopped driving and started to go to Doctors to find out what was going on.  Finally, she was diagnosed with absent seizures during senior year. The seizures became more frequent and really affected her memory.  Finishing school became harder and harder, but she persisted and again finished with Honors.  The seizures even with medications kept progressing.  Simple partial to more and more tonic-clonic.  Erica's was diagnosed with Left Temporal Lobe seizures.  When the medication affected her ability to stand, walk etc., we needed to find out why.  That is when we discovered she has Muscular Dystrophy.  There are many life threatening types of MD. Erica has been able to adapt to her type MD with a scooter, cane seat and electric bike. Greatly improving her mobility.
Frequent uncontrolled seizures and memory loss is making living independently very difficult.  Going to The Epilepsy Foundation support groups and camps have been a tremendous help.  Finding there, people who understand and know what you are dealing with.  In the support groups we have found acceptance, help finding answers about epilepsy, and last but certainly not least friendship.
We will be walking on June 20th to benefit the Epilepsy Foundation of Eastern Pennsylvania.
Over the last 4 years our family has been supported by many resources. Our daughter Hannah is nearly 5 now and we all felt a need to give back to the network of medical professionals, researchers and advocates who continue to work everyday to secure a bright future for Hannah. Please consider making a donation on our behalf to support our fundraising campaign.
Hannah's Story
Hannah had her first seizure at 6 months. So began our family's unexpected journey of learning, compassion, happiness, pride and yes, far too many times to count, panic.
Hannah's epilepsy is rooted in a genetic trait that interferes in the functions of the sodium channels in her brain. While we strive and hope for a seizure free state for her, we know that this will only be achieved through medical support and research.
We are lucky. For anyone who has never witnessed her seizures, it is not possible to tell that Hannah has epilepsy. Outside of the monthly break-through seizures, she is developing as would any other 4 year old girl who likes dinosaurs, cars and t-ball. We are lucky.
That is not to say that Hannah can be totally independent without our constant vigilance in monitoring her well-being. She has had some long seizures and the ever-present threat of breaking through while sleeping means we are perpetually sleep deprived from watching over her (like most new parents do in the first 6 months).
As she has gotten older and gone out into the world, we have learned that beyond her medical needs, Hannah now needs us to educate and advocate for her, to help others understand how her condition is part of her but it does not define her. We have found valuable resources to assist us in our efforts.
Advocates like the Epilepsy Foundation of Eastern Pennsylvania continue to raise awareness and understanding. The support they provide to any family dealing with seizures is invaluable.
So we ask again, if you can, support this cause, this agency, these people, who together are working for endless possibilities for Hannah and anyone else living everyday with epilepsy.
Team Aubrey Kay
My team is strolling for my daughter, Aubrey Kay! She is 3 and a half years old and lives with epilepsy!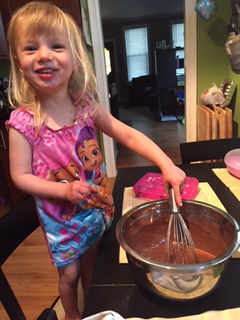 When Aubrey was born, we couldn't have been happier. She was a blue-eyed, blonde haired precious baby. Within 24 hours, Aubrey was sent to the NICU to assist her with the feeding. While under the observation of the NICU nurses, they caught the first seizure. Upon further testing after this seizure, we discovered that Aubrey had a stoke in utero! We were sent to St. Christopher's Hospital in Philadelphia for further care. It was there that we were faced with the reality of what that stroke could mean for our daughter…cerebral palsy, developmental delays, cognitive delays, and possible epilepsy. When we left to go home, we were armed with all of the necessary tools to take care of our daughter. Early Intervention therapists came into our home to assist in Aubrey's development and growth. We had emergency medicines in case her seizures lasted longer than 5 minutes. Thankfully, we hadn't seen anymore seizures until Aubrey was 8 months old. She started having infantile spasms, which we found out through several EEGs at St. Christopher's Hospital. That was when we started our search for a medication that would help make Aubrey's seizures stop! To date, we have tried Keppra, Onfi, Topomax, Zonogran, Klonopin, and Lamictal, which have served unsuccessful.
When Aubrey was a little over 12 months old, we switched hospitals and put our faith into Children's Hospital of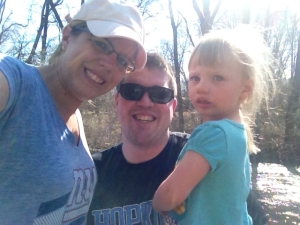 Philadelphia. At 18 months old, we were admitted to the hospital to try the Ketogenic diet for her epilepsy, since the medications didn't seem to be working at their highest levels. After a year and a half on the diet, Aubrey continued to have seizures. We had daily struggles with her to get her to eat the food, which was supposed to serve as her "medication". After several meetings with the doctors and the team at CHOP, we decided to take Aubrey off of the diet and tried putting our faith back into medication. There has to be something that works for her!
Aubrey continues to have 10-25 myoclonic seizures everyday! Some cause her to fall down and hurt herself, so we have gotten a helmet for her to wear while at daycare. She is developmentally delayed, but we rejoice in the news things she is able to accomplish each day! She continues to get physical therapy, occupational therapy, and speech therapy which has given us more ideas and ways to help her on a daily basis. She also participates in horse therapy, which she loves! It incorporates all therapies into one, while connecting with horses! We couldn't be happier with all of the help and support we have gotten from countless therapists and services so far!
It is a struggle for us to watch Aubrey have seizures every day! It's something we wish we could fix and control for her, but we are at the mercy of the doctors and medications to do their jobs! During one late night search, I stumbled upon EFEPA! We have found support groups that have been helpful when there were questions late at night. There are wonderful resources for Aubrey to use as she continues to grow! I can't wait for her to try Camp Achieve when she is old enough. It will be impactful for her to meet other children who share the same daily struggles, challenges, and milestones as her. For Aubrey's 3rd birthday, instead of gifts, we asked for donations for the EFEPA because we believe their is hope for our blue eyed, blonde haired daughter, and other families like ours!
We are excited to have a team in the Summer Stroll this year and hope we continue to gain support and donations in the years to come!
RB Strollers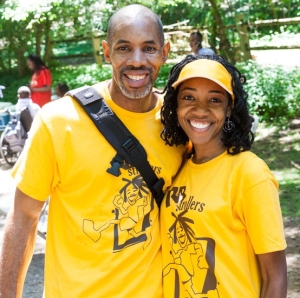 Rachel has been leading the RB Strollers for 7 years. She first became involved after her neurologist at Jefferson University Hospital introduced her to the EFEPA.
"I am incredibly inspired by my family, friends, doctors, neighbors & coworkers who have come out year after year to show their love and support. I love that we always have a great time, rain or shine, and it's definitely an event I look forward to every year.
I stroll for the EFEPA  and all whose goal it is to provide life changing services to the entire epilepsy community. These organizations ultimately help us overcome the challenges presented by this condition."
Brandon's Brigade
Brandon is my son and we stroll for him.  He was diagnosed with Benign Rolandic Epilepsy on September 23,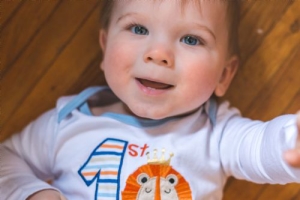 2013. Brandon had never had a seizure prior to 2013 so it really hit us hard.  He was only 8 years old at the time. But then Brandon was seizure free from September 2013 until December 23, 2014! When he had another seizure, it  hit us hard too since he had been doing so well for more than 15 months. He has had a couple of more since then so this year's Summer Stroll is even more important to us than last year.
We want to help continue to spread the word about epilepsy and raise money to find a cure. Today,Brandon is 100 days seizure free.
Jake's All-Stars
Hi, my name is Jake Libby. I'm 12 years old and a 6th grader at Perkiomen Valley Middle School West. I like to
play basketball and video games, do fun stuff with my family and hang out with my friends.
Last December I collapsed in music class and the paramedics came and took me to the hospital in the ambulance. It was pretty scary. They told me I had a seizure. I didn't even know what that was. The doctors have done tons of tests on my brain to try and figure out what is happening but they can't find a reason for my Epilepsy.
I've learned that a seizure is an electrical storm in my brain where all the neurons are firing at once and my body needs to reset. I don't know when I'm going to have one and I don't remember it at all. I just wake up and see concerned people staring at me. It's really scary and I worry that it will happen again. Right now all I can do is take my medication twice a day, eat right and get plenty of rest. I'm also supposed to avoid stress which is hard when you miss a lot of school and need to catch up and every day don't know if you are going to have another seizure.
I've decided to raise awareness for Epilepsy and organize my team, Jake's All-Stars, for the Summer Stroll in Philadelphia. You can help by donating money for programs, like seizure training programs for EMT and Paramedics, and research so the doctors can understand what causes seizures and what they can do about it. You can also join my Team and walk with us on Saturday, June 20th.