Camp Achieve
View more photos:2014 Camp Achieve |  2013 Camp Achieve | 2012 Camp Achieve | 2010 Camp Achieve | 2009 Camp Achieve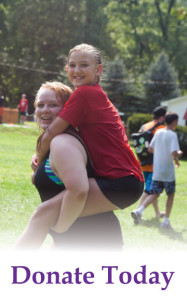 Save the Date : Camp Achieve 2015 will run from Sunday, August 16 – Friday, August 21!
The Epilepsy Foundation Eastern PA believes no child should feel alone, ostracized or unsafe because of their epilepsy. We strive to alleviate the stresses and fears that many children with epilepsy suffer from by providing them access to all of the life experiences they deserve. Camp Achieve is key to accomplishing this goal. From its humble beginnings 17 years ago, Camp Achieve has become a uniquely designed program tailored to the special needs of youths with epilepsy.
The application period for Camp Achieve campers and counselors are now closed. Each application is reviewed by the medical review committee to determine eligibility. Please allow 6-8 weeks for review. 
Click here to complete the Camp Achieve Neurologist Form.
Camp Achieve 2014 was a huge success! We hosted our largest camp to date, 54 campers! A great way to learn more about Camp Achieve is by checking out our 2014 Camp Report.Campers can enjoy all of the fun and community building that a summer camp offers because of our trained medical staff and counselors who provide a safe environment in which to grow. Combined with epilepsy education activities, Camp Achieve is a unique place both to learn new skills and make lasting memories.
Learn all about Camp Achieve
Campers at Camp Achieve
Volunteer Counselors and Medical Staff at Camp Achieve
Giving to Camp Achieve
Campers at Camp Achieve
Who can apply?
Applications are open for any child aged 8 to 17 with a primary diagnosis of epilepsy.  Campers are expected to be able to perform all activities of daily living independently.  This includes tasks like eating, bathing, dressing and basic hygiene. All applications are submitted to a medical committee to review a camper's eligibility.
Are there medical requirements to consider?
Eligible campers have a primary diagnosis of epilepsy and see a neurologist for regular appointments.  Campers are able to participate in physical activities like walking, sports, and crafts.  Campers are able to socialize and participate in group activities effectively.  All camper applications and medical forms are reviewed by a Medical Committee to determine eligibility.
Is there an application fee?
There is no application fee but, if accepted, there is a registration fee of $350. Full and partial scholarships are available for eligible applicants through the EFEPA and FACES (Finding A Cure for Epilepsy and Seizures.) Applications are due to FACES by April 13, 2015. More details are available here. 
What does the registration fee cover?
The fee covers 6 days of activities (Sunday afternoon to Friday morning), room & board and the safeguard of 24/7 medical care by licensed professionals.
What can my child expect at Camp Achieve?
Take a look at our Day in the Life of a Camper slideshow to see what a typical day at Camp Achieve might entail!
For a complete overview of the rules and expectations at Camp Achieve, please review our Camper Information Packet. 
Volunteer Counselors and Medical Staff at Camp Achieve
Counselors must be over 18 and demonstrate a strong desire to work directly with exceptional young people.  Counselors not only supervise campers but are also encouraged to participate in our daily activities. Experience is preferred but not required.
Health Professionals are needed to dispense daily medications, perform seizure first aid, and respond to any medical needs that may arise.  Health professionals must be experienced, licensed, and demonstrate a desire to learn and interact with our amazing community.
Health Professionals Brochure | Counselor Information Packet
Giving to Camp Achieve
Camp Achieve happens because of generous donors like you.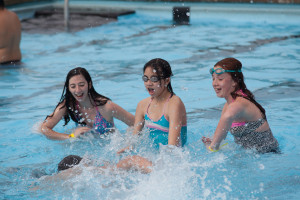 Camp Achieve activities are made possible by donations.  If you are interested in supporting Camp Achieve, please review our needs and help our camp community grow! Want to see your gift in action? Check out our Amazon.com Wish List to donate activity supplies! For questions about Corporate Sponsorships, please contact the Development Department, development@efepa.org or 215-629-50023.  
  Donate To Camp Achieve  | Third Party Events Help | Amazon.com Wish List

Third Party Fundraisers are a unique way to raise epilepsy awareness and support for Camp Achieve in your own community.  Read our list of successful ideas and give one a try!
Dine-In for Camp- Host a dinner party and ask your guests to give a small donation for their meals.
Corks for Camp- Host a wine-tasting featuring local or international wines and ask your guests give a small donation to participate.
Casual Friday- Ask your co-workers to give a small donation in order to be allowed to participate in a Casual Friday at the office.
Coffees for Camp- Ask the owner of your favorite local café to donate a percentage of their sales in support of Camp Achieve.
Roll Out the Red Carpet- Host an awards show party and ask your guests to give a small donation to participate.  Watch the Oscars, Golden Globes, or Grammy Awards in style!
March Madness- Have your friends over to watch the Tournament! Instead of chips and salsa, ask that they bring a small donation!
Opening Day- Invite friends and family to watch the Phillies' Opening Day! Rather than baked goods and hot dogs, guests can bring a small donation.
Casino Night- Host a poker or blackjack game and ask participants to give their winnings to a great cause.
Or come up with your own! When you're ready, submit a third-party application to the EFEPA, available here.
For more information about Camp Achieve, please contact efepa@efepa.org or 215-629-5003