The Walks for Epilepsy are so important to us because they brings together the entire epilepsy community in a show of support for those impacted by seizures. That's why our theme for the 2018 Walks was "Who Do You Walk For" — to help others learn more about epilepsy and honor those living with it each and every day.
One part of this is our Team Spotlights, where we encourage you all to learn a little more about some of the teams you can walk with on Saturday. Read below to meet some of our teams!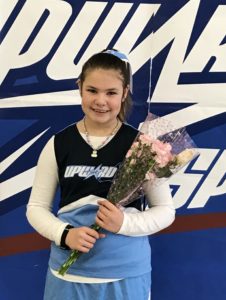 Meet Addison Wright! She is the Captain of her team, Addison's Army, which has been marching strong in the Walk for Epilepsy – Philadelphia for the past five years!  
Addison first started having seizures when she was five years old.  Her journey has consisted of trying different medications and treatments, the Ketogenic Diet, as well as the VNS implant.  
While living with epilepsy has been a challenge for Addison and her family, Addison's diagnosis does not and will not stop her.  She keeps positive and doesn't let her epilepsy define her or slow her down. Addison loves singing and is in her school's chorus, but you can probably catch her singing for fun in her free time as well.  She is also very physically active, as she is a member of the gymnastics team and the cheerleading squad. Whether it's through singing, gymnastics, or cheerleading – Addison's energy is contagious.
Her team, Addison's Army, is comprised of her parents, siblings, grandparents, relatives, and friends.  Their "Army" marches on so others know they aren't alone in their fight against epilepsy. They march with other teams to meet new people who also have epilepsy and make new friends.  They march to show people living with epilepsy that they can continue to live their lives and aren't defined by the stigma associated with seizures. They march for and with Addison. And so do we.
This spotlight is shining bright on Ben Manicke!  He is the man leading the charge of Ben's Brigade, his team for the Walk for Epilepsy – Northeast PA.
Ben was in the first grade when he had his first seizure.  While initially there was some shock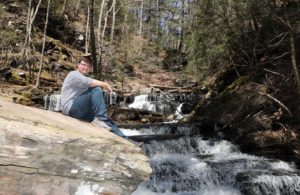 and adjustment, Ben and his family have not let epilepsy slow them down.  
Ben's favorite subjects in school are Science and History. On a free afternoon, he enjoys playing a smooth tune on his saxophone. Ben is also a programming guru and has designed multiple games and apps for phones and computers.  Whether it be a reincarnation of early arcade video games like Pong, or a new game of his own invention, Ben loves creating something new in the digital realm. He plans on making a career out of his programming expertise.
Ben and his family formed their Walk team, Ben's Brigade, in support of him and to show others they aren't alone.  Ben's Mom, Tami, recalls being shocked by how many people are affected by epilepsy the first time they came to the Walk. She was so inspired by the act of solidarity and hope from everyone working towards a common goal of support and a cure.  Ben feels encouraged when he sees everyone Walk for Epilepsy together. He believes it is important that people give back, work together, and support each other. He encourages everyone to remember that we are more than epilepsy and that we are here for each other.
"You can't let it hold you back.  You can't let it control you." – Ben Manicke.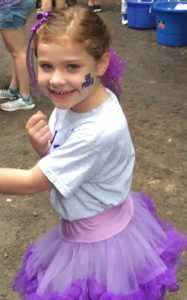 Look out, everyone, here comes Morgan McDonald and her team, Marching for Morgan!
Morgan's epilepsy is connected to Sturge-Weber syndrome and she had her first seizure when she was 6 months old.
Morgan is way more interested in singing a tune or dancing around than letting her epilepsy weigh her down.  Morgan is in the second grade and likes to explore her creative side in her favorite school subjects: music and art.  Her artistic talents extend far outside the classroom where she couples her love for singing with her skills in dance. She also loves playing hairdresser and doing makeup, making sure her friends always look fantastic.
Morgan's mom, Rebecca, started the "Marching for Morgan" team a few short months after Morgan's first seizure.  The team started small, but has now grown to around 20 members!  Marching for Morgan does more than Walk for Epilepsy, though, they also do fundraisers like "Painting with a Twist" where they spend an evening painting with friends and entering raffles.
Rebecca wants to bring awareness to epilepsy and Sturge-Weber syndrome and she is glad there are things like the walk to help do that.  "It's important that we understand our kids' needs and treat them as equals.  It takes a village to raise a child and we need to lift each other up."
Keep on marching, Morgan, and we will see you and your team on the field on June 24th!
Time to introduce to you, The Amazing Grace Gindhart, of first-time Walkers, Team "Amazing Grace!" Grace is a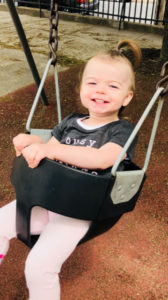 true patriotic girl, being born on the 4th of July.
Grace was diagnosed with epilepsy as a baby, but she has now been seizure-free for TWO months! 
Grace loves being around people and enjoying life. As seen in her picture, she enjoys soaking in the sun out on her swing with a big grin on her face.  She also loves being read her favorite book by her Mom, Neely.
The Walk for Epilepsy – Philadelphia will be the first Walk for Team "Amazing Grace."  Neely found out about the EFEPA online and was so excited that the community and the opportunity to walk were out there.  Team Amazing Grace is a team of 100 walkers comprised of their supportive family, friends, co-workers, and South Philly community members.
Neely made the point of, "Awareness, routine, understanding.  Following a daily schedule helps us make sure Grace's seizures are controlled and she is safe.  Being responsible is important."  Neely believes that keeping up with what you are supposed to do, and what you say you are going to do, creates a safer environment.
We can't wait to see "Amazing Grace" out on the field at Citizens Bank Park walking for awareness!  See you Sunday!