Want to help the EFEPA team fulfill our mission of empowering and improving the lives of individuals and families living with epilepsy? We are always looking for community-minded, mission-focused, hands-on volunteers to join our efforts! To get started, please fill out our Volunteer Interest Form.
Administrative Work & Office Tasks
On occasion, the EFEPA calls on volunteers to support office work and administrative tasks as we prepare for community events and fundraisers. Tasks may include assisting with data entry and filing, helping to assemble materials for bulk mailings, or making follow-up phone calls to community partners. Most of this volunteer work would take place at our Philadelphia office, located in the heart of Center City.
Advocacy & Legislative Efforts
Through public policy, legal advocacy, and grassroots engagement at the state and federal level, the EFEPA raises awareness about epilepsy and issues affecting the epilepsy community in order to create positive change. Through programs like the Epilepsy Foundation of America's "Teen Speak Up" initiative, the EFEPA collaborates with organizations across the country to ensure quality, affordable health care is accessible for all, help end epilepsy-related discrimination, raise awareness, and promote education.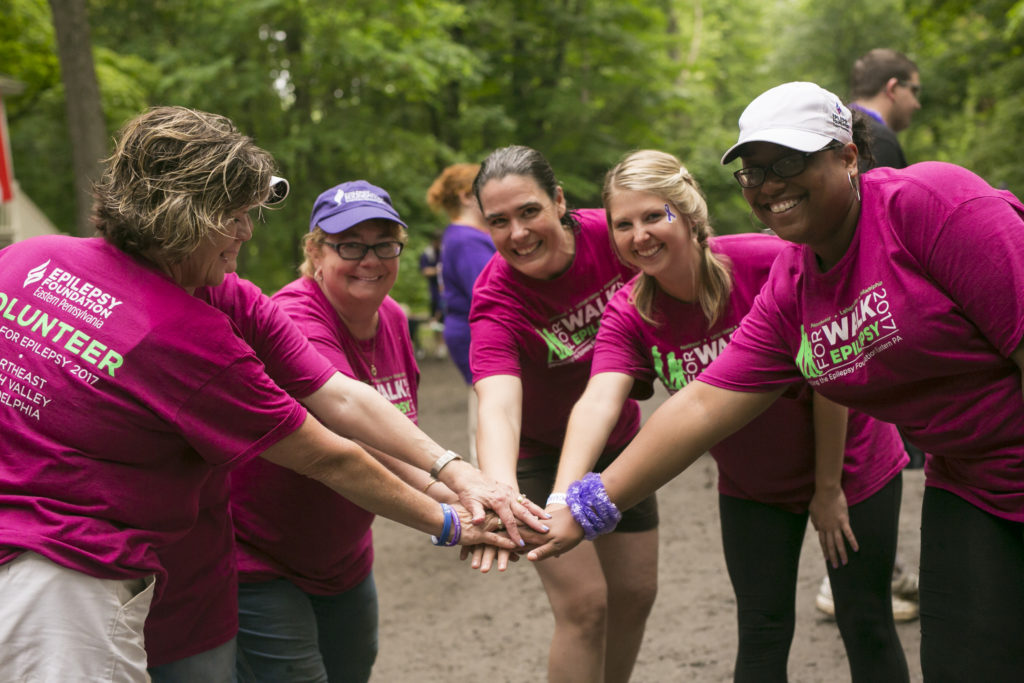 Camp Achieve & Weekend Retreats
We at the EFEPA take special pride in the services we provide for youth affected by epilepsy and their families. The crown jewel of this work is Camp Achieve, a weeklong sleep-away summer camp uniquely tailored to the needs of children ages 8-17 diagnosed with epilepsy. Located on-site at Camp Green Lane in Green Lane, PA, Camp Achieve relies on the support of volunteer camp counselors and medical professionals to bring the magic of summer camp to life.
In addition to Camp Achieve, we offer annual weekend retreats for adults and young adults living with epilepsy, and often need volunteer support as we plan and prepare for these events.

Registration for Camp Achieve, The Young Adult Retreat, and The Adult Wellness Weekend is now open for participants and volunteers.
Community Outreach
Volunteers can help the EFEPA raise awareness and represent the epilepsy community in Eastern Pennsylvania at health fairs, conferences, workshops, and other functions across the 18 counties we serve. In most cases, we ask that these volunteers have knowledge of and experience with epilepsy as well as the EFEPA's programs and services which sometimes require training.
Fundraising & Special Events
With annual events like the EFEPA's Mardi Gras Gala, The Charley Roach Golf Invitational, and four local Walk to END EPILEPSY events across Eastern Pennsylvania, there is always a great need for volunteerism surrounding special events. Volunteers are often called upon to support miscellaneous tasks such as assistance with large mailings, creating event decorations, and help with event set-up, hospitality, and clean-up.
Medical & Healthcare Services
So much of the work we do at the EFEPA is alongside neurologists, epileptologists, nurses, and other medical professionals supporting and treating the epilepsy community in Eastern Pennsylvania. We are always on the lookout for healthcare professionals to speak at our conferences and webinars,, volunteer as certified medical staff for Camp Achieve or one of our weekend retreats, and to partner with as we advocate for our community and funding for epilepsy research.