Want to keep the magic of summer camp alive all year round? Through Youth Achieve, children and teens with epilepsy can remain active members of their local community, and keep in touch with camp friends, no matter the season!
Youth Achieve is the EFEPA's way of keeping our camp community involved and engaged with quarterly in-person events throughout Eastern Pennsylvania to raise awareness, keep youth connected to their support networks, build friendships, have fun, and assist the Foundation in our mission to end epilepsy. In addition to our in-person events, we'll periodically host virtual events to help youth stay connected with friends no matter where they live!
In addition to having fun, what will Youth Achieve members do?
Create opportunities for youth leadership and networking
Apply personal skills and interests to create real world experiences
Make a difference in the lives of people with epilepsy
Serve as representatives for local EFEPA events
Learn more about epilepsy and what others are doing to help
Reach out to key political leaders about the importance of epilepsy awareness
Youth Achieve is your way to show Pennsylvania, and the world, what the power of youth can do!
Still have questions? For more information on how to get involved, please contact our Camp & Community Outreach Coordinator, Andrew Chmielowiec at [email protected] and (215) 629-5003 x103.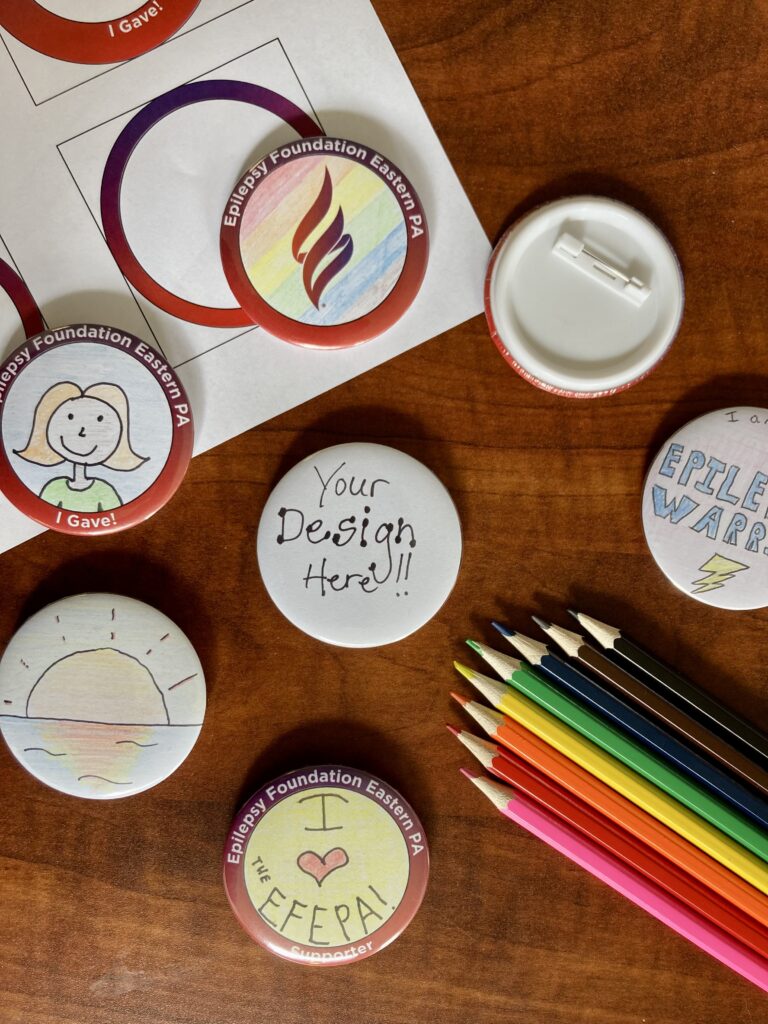 Want to be part of a EFEPA history, and help spread epilepsy awareness at the same time, all from the comfort of home?
Join us, and fellow members of our local epilepsy community, in the first ever Community Arts Button Making Campaign! We'll be pressing hundreds of EFEPA Buttons that will feature your original artwork! These buttons will be used as 'Thank You' gifts for donors and community partners, giveaways for EFEPA events, and more – all featuring the creativity and dedication of our local epilepsy warriors, advocates, and champions!
How does it work?
Fill out this short form to request some button templates, which we'll mail directly to you! You'll receive a packet in the mail with everything you need to get started.
Get creative! Design, create, and color your buttons right on the template pages. You can draw pictures, doodle, share words of wisdom, or whatever else you're inspired to make.
When your templates are complete, mail them back to us using the pre-addressed, pre-stamped envelope included in your packet.
We'll take it from here! When your templates arrive at the EFEPA, our team of staff and volunteers will press them in buttons, email you pictures of the final products you've created, and your buttons will be used to raise awareness in future EFEPA events!
Still have questions? Want a little more information? Contact our Community Outreach Coordinator, Andrew Chmielowiec, at [email protected] or (215) 629-5003 x103.
Upcoming In-Person Events
Virtual Creative Arts Classes 2.0
Thursdays, March 13-April 6, 6-7 pm.
Live on Zoom
Looking for a creative outlet, exploring a new hobby? or trying to get more involved in your local epilepsy community? How about all three?
Join us for the EFEPA's second round of Virtual Community Arts Classes! All classes are family friendly, open to ALL AGES, and are completely FREE of charge. Those who register for the classes prior to March 1st may receive a kit of art supplies to use during the classes (while supplies last). Classes will be held on Thursdays from March 16th to April 6th, live on Zoom from 6 to 7 pm.
March 16th – "Comic Relief" (Doodles, Sketches, & Comic Book Art)
March 23rd – "Swimming in Creativity" (Watercolor Painting)
March 30th – "A Walk In the Wood" (Wood Crafts)
April 6th – "Knots & Folds" (Friendship Bracelets & Origami)
To RSVP, please register HERE!
AND
Teen Education & Support Group
Ages 13-15, Tuesdays, January 24 – February 28, 5:30-6:30pm
Ages 16-19, Thursdays, January 26 – March 2, 5:30-6:30pm
Live on Zoom
The EFEPA is proud to announce our first education and support group designed specifically for youth with epilepsy. Teens ages 13-19 with an epilepsy diagnosis are invited to join us for the pilot 6-week program, which will meet once a week, virtually on Zoom. 
Meetings are FREE to attend and will cover a variety of topics and age-appropriate discussions relevant to growing up with epilepsy. EFEPA facilitators aim to empower and support and educate teen participants through open discussion, socialization, and connection to a system of mutual peer support.
To RSVP, please register HERE!
Still have questions? Please contact our Camp & Community Outreach Coordinator, Andrew Chmielowiec at [email protected], or (215) 629-5003 x103.
For more information, please contact Andrew Chmielowiec at [email protected] or (215) 629-5003 x 103.