[/fusion_builder_column][/fusion_builder_column][/fusion_builder_column][/fusion_builder_column][/fusion_builder_column][/fusion_builder_row][/fusion_builder_container][/fusion_builder_row][/fusion_builder_container][/fusion_builder_row][/fusion_builder_container]
[/fusion_builder_column]
[/fusion_builder_column][/fusion_builder_column][/fusion_builder_column][/fusion_builder_column][/fusion_builder_column]
[/fusion_builder_row][/fusion_builder_container]
[/fusion_builder_column]
[/fusion_builder_column][/fusion_builder_column]
[/fusion_builder_row][/fusion_builder_container]
[/fusion_builder_column]
[/fusion_builder_column]
[/fusion_builder_row][/fusion_builder_container]
Want to keep the magic of summer camp alive all year round? Through Youth Achieve, children and teens with epilepsy can remain active members of their local community, and keep in touch with camp friends, no matter the season!
Youth Achieve is the EFEPA's way of keeping our camp community involved and engaged with quarterly in-person events throughout Eastern Pennsylvania to raise awareness, keep youth connected to their support networks, build friendships, have fun, and assist the Foundation in our mission to end epilepsy. In addition to our in-person events, we'll periodically host virtual events to help youth stay connected with friends no matter where they live!
In addition to having fun, what will Youth Achieve members do?
Create opportunities for youth leadership and networking
Apply personal skills and interests to create real world experiences
Make a difference in the lives of people with epilepsy
Serve as representatives for local EFEPA events
Learn more about epilepsy and what others are doing to help
Reach out to key political leaders about the importance of epilepsy awareness
Youth Achieve is your way to show Pennsylvania, and the world, what the power of youth can do!
Still have questions? For more information on how to get involved, please contact our Camp & Community Outreach Coordinator, Andrew Chmielowiec at achmielowiec@efepa.org and (215) 629-5003 x103.
Holiday Greeting Card Art Contest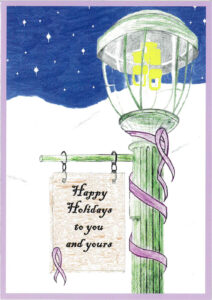 For the first time in over a decade, the EFEPA is sending out holiday greeting cards, and we need your help!
We're calling on artists (all ages and abilities) to submit colorful artwork that captures the magic of the holiday season and helps spread epilepsy pride and awareness. Art submissions should be detailed, full color, seasonally festive, and free of religious symbols or imagery. Selected artists will have their artwork featured on the front of a greeting card, as well as an artist credit, headshot and short biography on the inside of the cards, which will be used as thank-you gifts for donors, fundraisers for EFEPA programs, and as our main means of correspondence this holiday season.
Have questions? Need more information? Ready to submit your artwork? Please contact our Camp & Community Outreach Coordinator, Andrew Chmielowiec, at achmielowiec@efepa.org or (215) 629-5003 x103.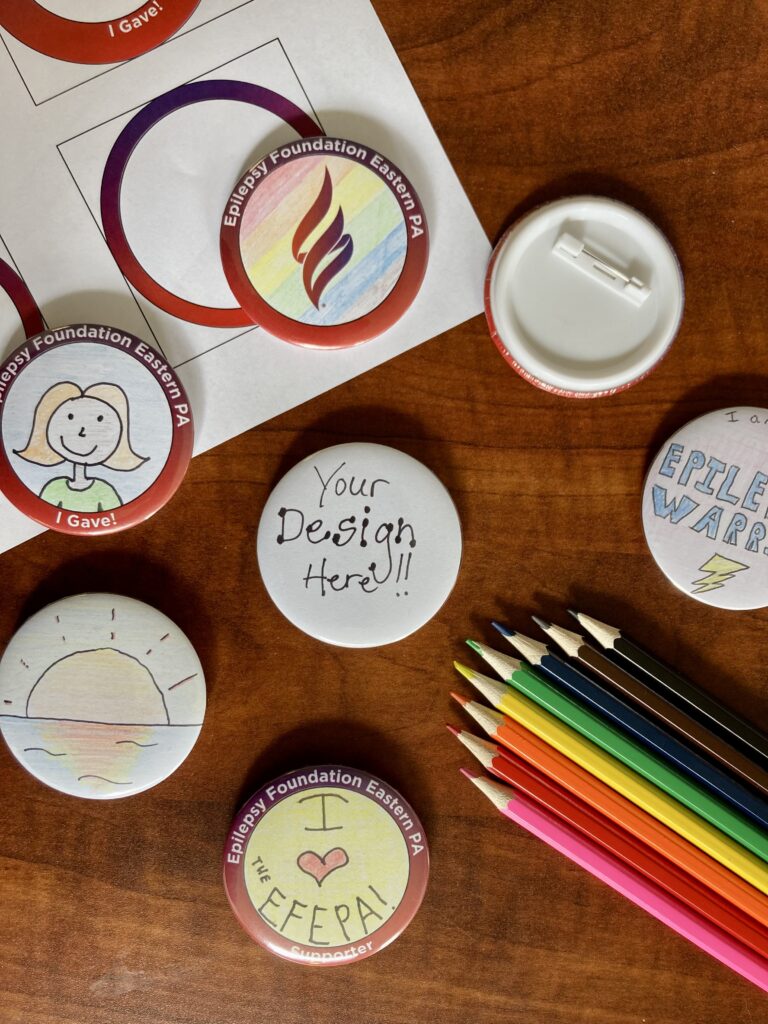 Want to be part of a EFEPA history, and help spread epilepsy awareness at the same time, all from the comfort of home?
Join us, and fellow members of our local epilepsy community, in the first ever Community Arts Button Making Campaign! We'll be pressing hundreds of EFEPA Buttons that will feature your original artwork! These buttons will be used as 'Thank You' gifts for donors and community partners, giveaways for EFEPA events, and more – all featuring the creativity and dedication of our local epilepsy warriors, advocates, and champions!
How does it work?
Fill out this short form to request some button templates, which we'll mail directly to you! You'll receive a packet in the mail with everything you need to get started.
Get creative! Design, create, and color your buttons right on the template pages. You can draw pictures, doodle, share words of wisdom, or whatever else you're inspired to make.
When your templates are complete, mail them back to us using the pre-addressed, pre-stamped envelope included in your packet.
We'll take it from here! When your templates arrive at the EFEPA, our team of staff and volunteers will press them in buttons, email you pictures of the final products you've created, and your buttons will be used to raise awareness in future EFEPA events!
Still have questions? Want a little more information? Contact our Community Outreach Coordinator, Andrew Chmielowiec, at achmielowiec@efepa.org or (215) 629-5003 x103.
Upcoming In-Person Events
Camp Achieve Reunion
Saturday, January 14, 2023
12:30-3 pm
The Conshohocken Community Center at the Fellowship House
515 Harry Street, Conshohocken, PA 19428
How about a little slice of summer camp, right in the middle of winter? All past Camp Achieve campers and counselors, and their families are invited to join us for our Camp Achieve Reunion. We'll relive camp favorites, learn about upcoming EFEPA events, and see what our friends have been up to since August!
New to Camp Achieve? You're invited too! Come and meet members of the camp community and learn about how Camp Achieve can become your summer home away from home!
To RSVP, please fill out the form HERE.
If you have questions, please contact our Camp & Community Outreach Coordinator, Andrew Chmielowiec, at camp@efepa.org or call (215) 629-5003 x103.
Youth Achieve Virtual Game Night
Friday, October 7th, 6-7 pm.
Live on Zoom
Join EFEPA staff, Camp Counselors, and other familiar faces from Camp Achieve as we reunite over Zoom with a night of fun, games, and prizes! New to the EFEPA? No worries! Virtual Game Night is open to all youth ages 8-17 and their families.
To RSVP, please register HERE!
For more information, please contact Andrew Chmielowiec at achmielowiec@efepa.org or (215) 629-5003 x 103.