The Epilepsy Foundation Eastern PA is dedicated to improving the quality of life for people with epilepsy. This mission includes funding research initiatives that seek to treat and prevent epilepsy in patients.
Since the 1990's, more than a dozen new drugs, devices and dietary therapies have become available to people living with epilepsy. Despite the benefits and reduced side effects these treatments have offered, the number of people living with epilepsy who cannot effectively control their seizures has remained at 30%, the same as it was more than two decades ago.
The Epilepsy Foundation Research Program supports the entire spectrum of discovery from idea to market and is focused solely on the needs of people with epilepsy. The program helps foster the development of the next generation of scientists and support research that leads to better treatments and care. The program strives for excellence, innovation, and radical thinking to end epilepsy.
With the help of "Julia's Angels", a Walk for Epilepsy Philadelphia team, the EFEPA provides annual funding to support research through the Epilepsy Foundation Research Program. Since 2003, Julia's Angels and the EFEPA have raised over $65,000 for research for a cure.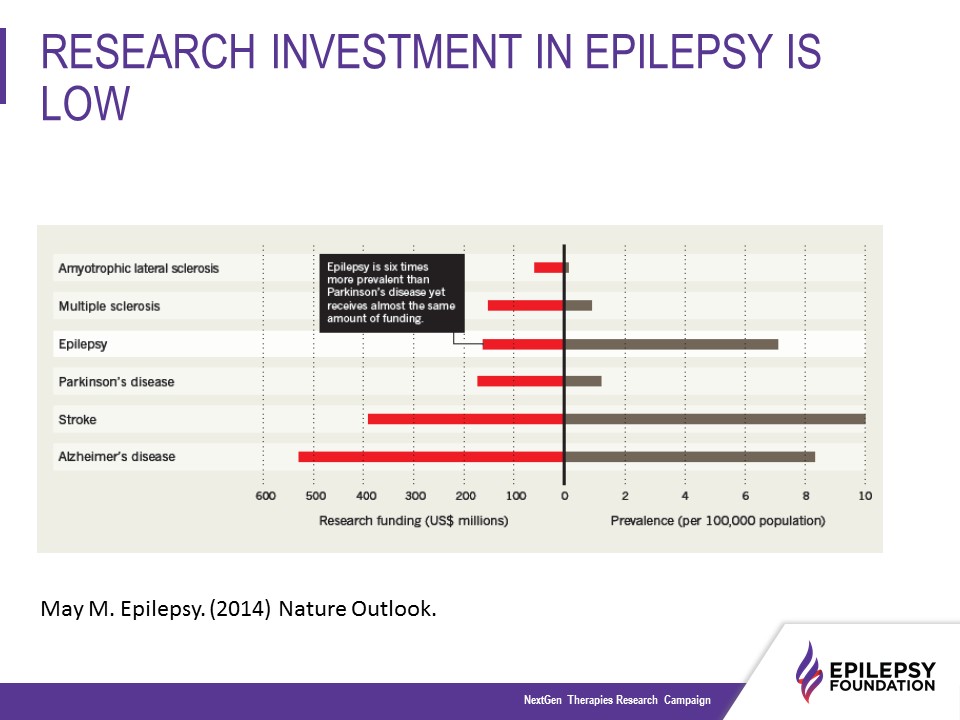 The Epilepsy Foundation Eastern PA recognizes the world-class research institutions and scientists in Pennsylvania, and attempts to support their initiatives. In addition, we recognize that we need to encourage more young people to take an interest in neurology, and the national research program has done an exceptional job of bringing young researchers into the field.
Currently, epilepsy research is in need of more funding. Although epilepsy is more prevalent than autism, multiple sclerosis, and Parkinson's combined it receives less funding per patient.
It is time to shake up the system with a new approach. Let's change the system – together.
What is a clinical trial?
Treatments cannot advance without clinical trials. Clinical trials are necessary to test the effectiveness of new therapies and to develop better ways of using known treatments. In some cases, they can make the difference between life and death for patients or a significantly improved quality of life.
About 1 in 3 individuals taking anti-seizure medication still have seizures, and others get unwanted side effects. Thus, those individuals with epilepsy are in a special position to help others through participating in medical research that can lead to effective treatments.
Participating in a clinical trial, however, is a significant commitment and one should always have a good understanding about the study and clinical trials in general before any agreement is made. The Epilepsy Foundation's Clinical Trials Resource Center will help you gain a broad understanding of clinical trials.
How can you get involved?
Visit the Epilepsy Foundation's Clinical Trials Portal to find trials that are actively recruiting in your area. More lists of clinical trials are available at clinicaltrials.gov and CenterWatch.
These lists represent only a small amount of epilepsy studies seeking volunteers. To find out about other studies, you can look for advertisements in newspapers or trade journals. Your own health care provider may be conducting research for which you are eligible or may know of other studies looking for volunteers. If you do a search on the internet, you will find that many medical sites have email lists you can join to be notified of available studies.
Current Open Studies*
The following are current studies that are being conducted.  Participate in epilepsy research and help to develop improved treatments and find a cure!
Are you the parent/guardian of a child with epilepsy? We need your help and want to hear your story!
Victoria Ballard, a student in the Master's in Genetic Counseling Program at the University of Maryland School of Medicine, is conducting a new research study to gain an understanding of the process that parents of children with epilepsy go through in order to gain access to genetic testing. Your state's branch of the Epilepsy Foundation has agreed to distribute this survey.
*Participate from the comfort of your home*
The study only involves an online anonymous survey that takes approximately 15 minutes. Data collection for this research project will end on December 31 st 2020. After this date the link below will be closed.
This study is voluntary, and your decision to participate will not affect your child's medical care. This is an anonymous study and your doctors will not know if you choose to participate. If you are interested in participating or learning more about this study, please use the link below:
https://umaryland.az1.qualtrics.com/jfe/form/SV_7a2zKNHyEqa8LoV
---
StATES Clinical Trial (Staccato Alprazolam Terminates Epilepsy Seizures)
A Potential New Rescue Device for Seizures is Currently Being Tested. If you or someone you care for is an adult (18 years+) living with focal or generalized seizures, Engage Therapeutics is actively enrolling patients for a Phase 2b clinical trial of Staccato Alprazolam. This new inhalable device may have the potential to be the first rescue treatment that can stop the progression of active individual epileptic seizures. For more information review the brochure HERE or visit www.epilepsyhealthstudy.com
---
Epilepsy Foundation's Human Epilepsy Project: Resistant Focal Seizures Study
The Epilepsy Foundation is launching a new partnership, called the Human Epilepsy Project, in collaboration with the Epilepsy Study Consortium. This study (which is called HEP2 for short) is designed to better understand the challenges of living with focal seizures that do not respond to medication.  The HEP2 study will follow 200 people with treatment-resistant focal epilepsy (with seizures that occur at least 4 times per month) over two years to measure changes in their seizure frequency, treatments used, adverse events experienced, presence of comorbidities like depression and anxiety, healthcare costs, and quality of life.  Blood samples will also be collected in order to look for biomarkers of epilepsy severity and treatment response.
Participants can join the HEP2 study at any one of eight recruiting study centers. These study centers were selected because they are epilepsy centers with track records of conducting high-quality research in epilepsy and efficiently recruiting participants into studies.  The designated 8 sites for the HEP2 study are New York University, University of California San Francisco, Mayo Rochester, Minnesota Epilepsy Group, Yale University, University of Pennsylvania, Northwell Health, and Vanderbilt University. A participant may enroll in the HEP2 study but continue to receive their standard epilepsy care with their current physician, as long as the participant is willing to share his or her medical records and travel to the study center for 2-3 in person visits during the two years of the study.
Help us learn more about epilepsy by sharing your experience. Join the Human Epilepsy Project today! Call 1-800-332-1000, email [email protected] or visit www.HEPStudy.org to learn more.
---
EpiDogs Project: International Questionnaire for Dog Owners with Epilepsy
Some dogs seem to be able to sense when a person is about to have a seizure, but how reliable this is or what the mechanism is, remains unknown. The EPIDOGS project investigates this behaviour and the underlying mechanisms, with the final goal of facilitating the training of seizure alert dogs.
If you, have been diagnosed with epilepsy and currently live with a dog, the EpiDogs project would like to invite you to participate. Your dog does not have to show alerting behaviour for you to participate.
This study is part of a four-year research project looking at the reliability of canine seizure alerting behavior and the senses that a dog may use when perceiving an imminent seizure in a human epilepsy patient. To date, however, we lack knowledge about the number of dogs that are perceived to be able to alert, or that are trained to do so. For the first stage of the EpiDogs Project, researchers are building an international database of alerting dogs using a questionnaire for epilepsy patients and dog training organizations. They are not contacting epilepsy patients directly, people interested can access questionnaires via the website (www.epidogsproject.net).
---
Epilepsy Birth Control Registry
Despite the importance of birth control to women of reproductive age, there has been little formal investigation of the safety and effectiveness of birth control methods in women with epilepsy.  To remedy this, doctors from Harvard and Columbia University Medical Schools have developed a website that offers a survey to help us gain more knowledge and some educational material that will be updated regularly to provide the latest information.  The ultimate goal is to develop guidelines for the selection of safe and effective birth control methods and to make sure that the best forms of birth control become available to women with epilepsy in all communities of our society.  Go to www.epilepsybirthcontrolregistry.com, take the survey and then catch up on the latest information about birth control for women with epilepsy.
---
Antiepileptic Drug Pregnancy Registry
Pregnant women with epilepsy who are taking antiepileptic drugs can help researchers learn how certain drugs affect unborn children by participating in the Antiepileptic Drug Pregnancy Registry.
The Antiepilepsy Drug (AED) Pregnancy Registry is the first North American registry for pregnant women who are taking anti-epileptic drugs. The registry is maintained out of Genetics and Teratology Unit of Massachusetts General Hospital in Boston. Women who enroll will be asked to provide information about the health status of their children. (All information will be kept confidential.) The findings will be analyzed to assess the fetal risk of AED use during pregnancy. The principal investigator for the registry is Lewis B. Holmes, M.D.
Women and physicians are urged to call the registry directly at the toll-free number, (888) 233-2334. Additional information is available at their website: http://www.aedpregnancyregistry.org/
---
*This listing of epilepsy studies is for information purposes only; and the reader assumes full responsibility and risk for the appropriate use of the information provided.  The information concerning the study was sent to the Epilepsy Foundation Eastern PA by the investigator or staff conducting the research. The Epilepsy Foundation, its affiliates, officers, directors, employees and agents do not warrant or guarantee the accuracy or completeness of this information and specifically disclaims any liability therefore.