The EFEPA is excited to host two  Epilepsy Art Therapy Programs this year for people with epilepsy in the Wyoming Valley Area and greater Philadelphia region. Offered by Epilepsy Foundation affiliates across the country, Studio E empowers people with epilepsy to creatively express feelings related to epilepsy and connect with one another in a safe environment. As a result, the program yields beautiful and meaningful works of art that educate both others with epilepsy and the general public. Learn more about Studio E by clicking here.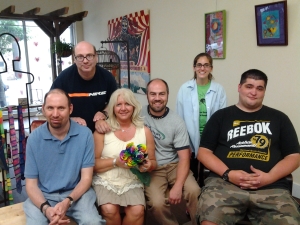 "Studio E has made a positive impact in the lives of many people with epilepsy and has provided a new way for them to express their feelings," said Allison McCartin, President and CEO, EFEPA, "Art therapy has been shown to help people with epilepsy convey their emotions and experiences with epilepsy and, as a result, increase confidence and self-awareness. We are excited to continue to offer Studio-E as a fun and engaging way to connect with others in the community."
This year's program in the Wyoming Valley will be taking place on Thursdays at 4-7 PM, starting June 1 through July 27 at The Hoyt Library, 284 Wyoming Avenue, Kingston. PA 18704. An exhibit of participant artwork will be held on July 27th in the Gallery Room.
For more information about the Wyoming Valley Studio E program, or to enroll in these sessions, contact Mary Loughlin, Wyoming Valley EFEPA Regional Coordinator at epilepsywv@efepa.org or call 570-592-1150.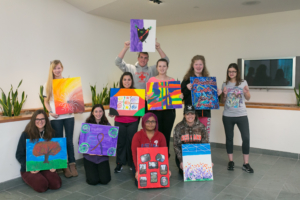 Studio E in the Greater Philadelphia area invites young adults ages 15-25 to explore art therapy on Saturdays from 8:30 am – 12:30 pm, September 9 through October 21, at the Annenberg Conference Center, Lankenau Hospital, 100 East Lancaster Avenue, Wynnewood, PA 19096.
For information about the Greater Philadelphia area Studio E program, contact Elizabeth Beil at ebeil@efepa.org or call 215-629-5003. To sign up today, please complete this form.
Program participants, art therapists, Epilepsy Foundation representatives and others have reported positive outcomes from the programs. These accounts indicate the program has helped people with epilepsy express difficult feelings, become more comfortable engaging with others and build confidence. To better validate these outcomes, plans are underway to use Studio E as a platform to conduct research that may provide us with a more rigorous understanding of the benefits of art therapy.
Studio E is made possible through a partnership between the Epilepsy Foundation and Lundbeck, a pharmaceutical company committed to people impacted by epilepsy. The program was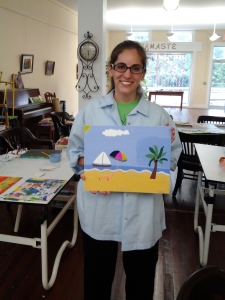 piloted in 2011 by four cities and has expanded to more than 50 cities across the country. Participants with seizure disorders of varying severities entered the program led by licensed art therapists.
"At Lundbeck, we understand that living with epilepsy can be challenging and can sometimes feel isolating," said Daniel Brennan, vice president of neurology at Lundbeck. "We're proud to partner with the Epilepsy Foundation to give Studio E participants the chance to experience the opportunity to express emotions and connect with others in their community."
With individual artist's permission, works of art will be available for viewing at local and national venues later in the year. These showcases are intended to raise awareness and understanding of epilepsy. Here's a sample of some of our artists work!