"I don't want to go to school mom."  
This is something we as parents hear all too often, but for children with epilepsy, it means so much more; it is their fear of having a seizure in school.
I'm going to get hurt…My friends will judge me…I'll be bullied. 
I couldn't stand the idea of not being able to protect my son Joe, 24/7.  It was a terrifying thought knowing his safety was in the hands of others and I wasn't able to protect him from children who didn't understand his seizures and would instinctively judge and bully him for thinking he's "different." 
I knew I had to do something to safeguard him. Not just for me, but for his peace of mind too, which is why I reached out to the Epilepsy Foundation Eastern Pennsylvania (EFEPA) to set up a first-aid training at his school. Through their Project School Alert program the EFEPA has been educating students, teachers, administrators, school nurses, and bus drivers for years, easing the minds of children, school administration, and parents alike.
Don't you think ALL students deserve to feel happy and safe in school?
Project School Alert is designed to help increase epilepsy awareness, while educating about signs and symptoms of seizures and proper first aid.  This FREE program for schools, taught by an EFEPA staff member, helps create general acceptance of this disorder that affects 1 in 26 people at some point in their lifetime. I found that once the EFEPA did the program, not only did it reduce the fear my son had of being bullied, but his teacher revealed to me that she was no longer nervous about what to do if he had a seizure in class!
This past year the EFEPA has educated over 3,500 people through the Project School Alert program, but they are nowhere near finished.  They need our help.  They want to reach new territories and educate staff and students in new schools, afterschool programs, and daycares! Will you donate today to help them reach their goal of educating 4000 school personnel and students?
Please consider giving to the EFEPA this year. Even the smallest contribution is a step in the right direction to making our schools, and students, safer.  Here's how you can help.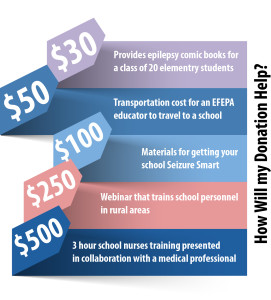 My sincere thanks,
Maryann Cancel
Mother of Joe Cancel
2013 Kids Speak Up participant
2012 – 2013 Camp Achieve camper
Would you like the EFEPA to train your local school? Click here to get started!