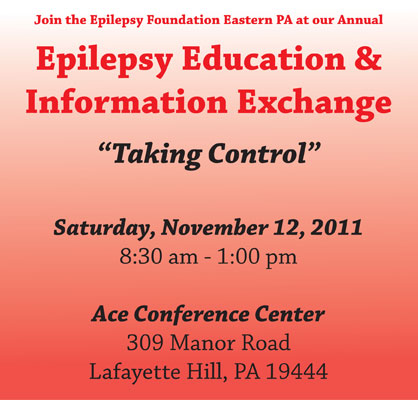 November is Epilepsy Awareness Month and there is no better way to educate yourself then attending our FREE Annual Epilepsy Education & Information Exchange, Saturday, November 12, 2011. This year's conference topic is "Taking Control" and we are privileged to have Dr. Christopher Skidmore join us as our keynote speaker.
Dr. Christopher T. Skidmore is an Assistant Professor of Neurology and a member of the Jefferson Comprehensive Epilepsy Center in the Department of Neurology at Thomas Jefferson University. He completed his medical school training at Saint Louis University School of Medicine in St. Louis, MO and his residency and fellowship at the Cleveland Clinic Foundation in Cleveland, OH.
In addition to caring for patients with epilepsy, he is also the Director of the Neurology Residency program. He is committed to educating patients, families, students, and other doctors about epilepsy. Dr Skidmore also presides over the EFEPA Professional Advisory Board.
Please register by Monday, November 7.
For Public Transportation information please visit SEPTA's Trip Planner or Google Maps. The 27 Bus drops off at Ridge Pike and Manor Road and the Ace Conference Center is a short walk up Manor Road.
KEYNOTE: "Building a Healthy Relationship with Your Physician
Expectations of Treatment"
Christopher Skidmore, MD
Jefferson Comprehensive Epilepsy Center, Thomas Jefferson University Hospital
Doctors cannot always predict when medications will work. When to call and when not to call your doctor; what your doctors need to know from you; learn what questions should be asked.
Workshops Include:

WORKSHOP  A
Epilepsy Basics
Peter Crino, MD, Penn Epilepsy Center, Hospital of the University of Pennsylvania
What happens after being diagnosed with epilepsy / seizure disorder? EEG, MRI, PET scan; What are these tests, and when are they used? When should you see an epileptologist? Why do doctors have varying opinions on how to treat?
WORKSHOP B
Anxiety and Epilepsy; Adults and Children
Kami Marchese, PsyD, Neuropsychological Assessment Center, Widener University
Why do so many people with epilepsy / seizure disorder have anxiety, and what is it? Is anxiety the same in children as it is in adults? How is it treated?
WORKSHOP C
Clinical Research and Trials
Michael R. Sperling, MD, Jefferson Comprehensive Epilepsy Center, Thomas Jefferson University Hospital
Learn about clinical trials; what they are and where to find them. Are they safe? Are they right for you?
WORKSHOP D
Impact of Epilepsy on the Family and Caregiver
Dennis Dlugos, MD, Regional Pediatric Epilepsy Center, Children's Hospital of Philadelphia
How does the acceptance or denial of epilepsy affect a family or caregiver? How does acceptance within the family affect the person with epilepsy / seizure disorder?
SESSION 1, WORKSHOP E
Employment Discrimination / ADA
Michael Durst, Esq., Representing Injured or Disabled Persons Since 1978
What is the ADA and how does it protect the person with epilepsy? When, how and why to tell an employer about epilepsy/seizure disorder.
SESSION 2, WORKSHOP E
Tom Giordano, Esq., Pond, Lehocky, Stern Giordano
Understanding SSI
Does epilepsy keep you from working full time? Are Social Security Disability or SSI possible options? Learn about your rights to benefits under the complicated Social Security system.
WORKSHOPS A, B, C, AND D WILL BE REPEATED IN SESSION 2.
Workshops will remain in the same room for both sessions.  Workshop E will remain in the same room for both sessions but the topic will change.