The Program of Active Consumer Engagement in Self-management in epilepsy
PACES is an eight-session epilepsy self-management program designed to increase the medical, psychosocial, and community adjustment of adults with active seizure conditions. Participants develop coping and goal-setting strategies that improve overall and discrete aspects of quality of life, epilepsy self-management and efficacy, and anxiety and depression.
PACES provides adults with active seizure conditions with the tools they need to manage their conditions effectively.
**Registration closed for our January groups. Please continue to fill out the interest form for our next April or May 2022 group!

Key Features:
Education about seizures types and available treatments, the influence of epilepsy on mood, stress, and cognition, and strategies for healthy lifestyle and active community engagement.
Training and practice using specific strategies to cope with stress and the blues.
Personalized goal-setting and support to help you articulate and pursue life changes that are important to you.
Qualified facilitator teams to include a trained epilepsy mental health professional and a trained peer with epilepsy.
A virtual group program via Zoom.
You Will Receive:
8 weekly group sessions with 2 qualified facilitators
PACES Workbook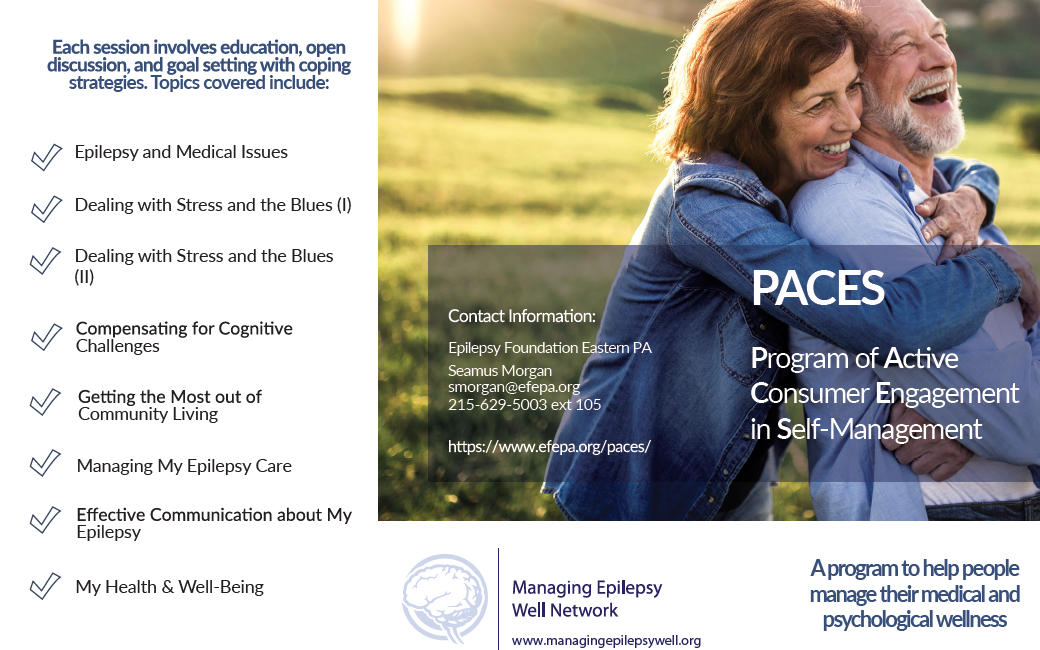 Interested? Contact Seamus Morgan at smorgan@efepa.org or call 215-629-5003 ext 105
Each group session lasts about 60-75 minutes. Each session covers a specific topic and the relevant skills and tools:
1. Epilepsy and Medical Issues
2. Dealing with Stress and The Blues (Part One)
3. Dealing with Stress and The Blues (Part Two)
4. Compensating for Cognitive Challenges
5. Getting the Most out of Community Living
6. Managing My Epilepsy Care
7. Effective Communication About My Epilepsy
8. My Health and Wellbeing