View more photos: 2020 Mardi Gras | 2019 Mardi Gras | 2018 Mardi Gras Gala | 2017 Mardi Gras Gala | 2016 Mardi Gras Gala | 2015 Mardi Gras Gala | 2014 Mardi Gras Gala | 2013 Mardi Gras Gala | 2012 Mardi Gras Gala | 2011 Mardi Gras Gala | 2010 Mardi Gras Gala | 2009 Mardi Gras Gala | 2008 Mardi Gras Gala
About the Mardi Gras Gala
In 2003, the EFEPA hosted the inaugural Mardi Gras Gala as its signature event. Adapted from the traditional Mardi Gras celebration held yearly in New Orleans, the Philadelphia-style Gala features an open bar complete with hurricanes, a three course French Creole sit-down dinner, silent and live auctions, lively entertainment and dancing to a nine piece band. Extravagant decorations, beads, jesters and masks all add to the festive decor.
The Gala annually honors a prominent business or community leader from the eastern Pennsylvania area as Mardi Gras King or Queen. Joining the royalty in festivities are Philadelphia's top neurologists, hospitals, pharmaceutical and medical device companies, prominent business leaders, community members and volunteers.
Visit mardigrasphilly.org to purchase tickets today!
Save the Date: 13th annual Mardi Gras Gala
The EFEPA invites you to laissez les bons temps rouler on Friday, February 21, 2020 from 7:00PM – Midnight at Vie By Cescaphe in Philadelphia, PA!
We are excited to come together again to celebrate our local epilepsy community, Honorees and the Foundation's accomplishments; all with a shared goal of improving the quality of life of people living with epilepsy, their loved ones and caregivers.
This year, we are beyond proud to honor EFEPA's very own Education Coordinator, Sue Livingston, as Queen of Mardi Gras and EFEPA Board Member and Professional Advisory Board Chair, Dr. Christopher Skidmore of Jefferson Comprehensive Epilepsy Center.
There are many ways to get involved with our Mardi Gras Gala including sponsoring a table, purchasing individual tickets, or placing an ad in our program book. To learn more about sponsorship opportunities, please contact our Director of Development, Missy Dolaway, at (215) 629-5003 or mdolaway@efepa.org
Last year, the EFEPA welcomed almost 500 people to our brand-new venue, Vie by Cescaphe, and raised over $185,000 to continue providing education, raising awareness and directly supporting individuals and families affected by epilepsy in eastern PA.
Special thanks you to our 2019 Presenting Sponsor – TerraVida Health Centers; our Cocktail Hour Sponsor – Sunovion; our Royal Court Sponsors – Children's Hospital of Philadelphia, Eisai, Greenwich Biosciences, Penn Medicine and UCB; and our Table Sponsors – AJ Foundation for Children with Autism & The Comprehensive Learning Center, Camp Green Lane, Engage Therapeutics, David & Karen Jones, David & Roseann Fry, Herbology, Jefferson Comprehensive Epilepsy Center, LivaNova, Magellan Health, PhRMA & We Work for Health, Supernus, Stephen & Marcy Wouch, The Beil Family, Wouch, Maloney & Co., LLP, UBS & Erik Sermarini, and ZS Associates. We are grateful for your collaboration and dedication to improving the lives of people with epilepsy.
Queen of Mardi Gras – Sue Livingston, EFEPA Education Coordinator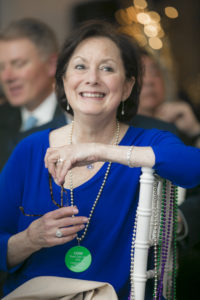 Sue was first introduced to epilepsy at the age of four when she was diagnosed with absence seizures. She was fortunate to gain control of her seizures at an early age, and very grateful for the love and support that her parents and brother gave her, speaking openly about her seizures to friends and family and not giving her limitations.
Before joining the EFEPA in 1996, Sue spent many years teaching nursery school and elementary grades in NY and PA. She worked with the Epilepsy Foundation of America to create their signature Project School Alert program. Now, she spends much of her time bringing epilepsy education to schools, law enforcement agencies and first responders. She enjoys training school nurses and teachers, and helping students to learn about epilepsy so that they can offer support and understanding to their fellow classmates with seizures. Sue also works tirelessly with parents and schools to obtain necessary accommodations for children with epilepsy.
Camp Achieve is Sue's greatest passion. "Former EFEPA Executive Director, Jeanette Chelius, came into my office twenty-three years ago with the dream of a camp for children and teens with epilepsy. It sounded exciting, like a lot of work, and impossible for the staff of three to put together. More than 20 years later, Jeanette and I have agreed that Camp Achieve is the best thing that we have ever done. It is still exciting, still a lot of work, wonderfully exhausting, but dedicated counselors and medical faculty make it a magical place for anyone who spends time there. It is still a dream, but one that comes true every August."
Working at the EFEPA has allowed Sue to meet and make so many valuable friends.
"We are not just a staff, we are a family, caring and supportive of one another, always encouraging each other to go just a little bit outside of our comfort zone to create and build new ways to serve people who are impacted by epilepsy."
Sue is happiest when she and her husband can spend time with their two daughters and twin granddaughters. She has very definite feelings about the Wizard of Oz.
Charley & Peggy Roach Founders' Award and Eric Burton Osberg Award Honoree –
Dr. Christopher Skidmore of Jefferson Comprehensive Epilepsy Center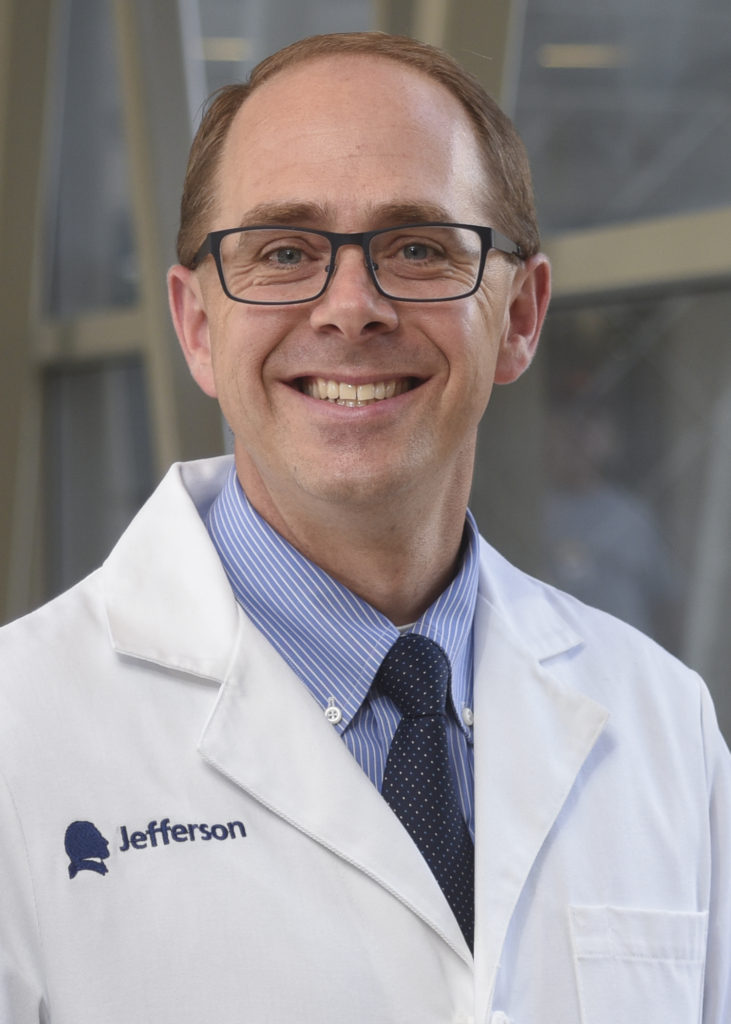 Dr. Christopher T. Skidmore has a Bachelors of Arts in Biology from Quinnipiac University in Hamden, CT and a doctorate in Medicine from Saint Louis University in Saint Louis, MO. He completed his Neurology residency and Epilepsy fellowship at the Cleveland Clinic Foundation in Cleveland, OH. He's been a member of the Jefferson Comprehensive Epilepsy Center at Thomas Jefferson University since 2005 and is currently an Associate Professor of Neurology in the Department of Neurology at Thomas Jefferson University.
Dr. Skidmore's other administrative titles include being the Vice Chair for Clinical Affairs for the Department of Neurology, the Associate Program Director for the Neurology residency program, and serves as the Chair of the Professional Advisory Board for the Epilepsy Foundation of Eastern PA.
He has been involved with the Epilepsy Foundation of Eastern PA since arriving in Philadelphia and has given numerous lectures for the EFEPA to help educate individuals, families and caregivers living with epilepsy.
He has participated in both Federal and State lobbying efforts to advance issues and concerns affecting the epilepsy community, participates in EFEPA fundraisers annually, and has volunteered at Camp Achieve.
Dr. Skidmore is a strong advocate for the epilepsy community both locally and nationally and enjoys being able to give back to the epilepsy community.
---
Read about past Mardi Gras Royalty here.
Read about past Honorees here.