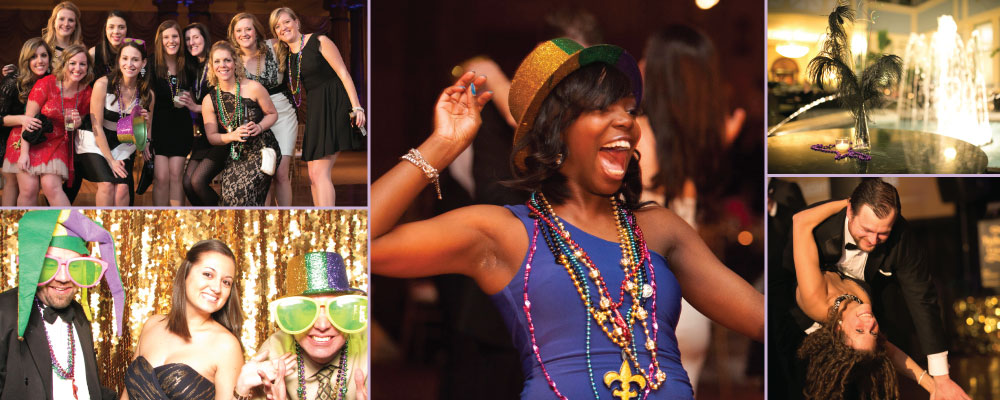 View more photos: 2018 Mardi Gras Gala | 2017 Mardi Gras Gala | 2016 Mardi Gras Gala | 2015 Mardi Gras Gala | 2014 Mardi Gras Gala | 2013 Mardi Gras Gala |2012 Mardi Gras Gala | 2011 Mardi Gras Gala | 2010 Mardi Gras Gala | 2009 Mardi Gras Gala | 2008 Mardi Gras Gala


Save the Date for the 12th Annual Mardi Gras Gala on February 22, 2019 at Vie by Cescaphe
About the Mardi Gras Gala
The EFEPA hosted the inaugural Mardi Gras Gala in 2008 as its signature event.  Adapted from the traditional Mardi Gras held yearly in New Orleans, the Philadelphia-style Gala features an open bar complete with hurricanes, a three course French Creole sit-down dinner, lively Mummers' entertainment, and dancing to a nine piece band. A parade, extravagant decorations, beads, jesters, voodoo dolls, and masks all add to the festive décor.
Annually the Gala honors a new King or Queen of Mardi Gras, a prominent business or community leader in the eastern Pennsylvania area. Philadelphia's top neurologists, hospitals, pharmaceutical companies, and members from its business and legal communities join their royal leader for the evening. Together they come out to celebrate the Foundation and its accomplishments to improve the quality of life of individuals living with epilepsy and their caregivers.
The 2019 Gala will be moving to Vie by Cescaphe located at 600 N Broad St, Philadelphia. Vie is inspired by the elegance of French Provençal design with every facet, from the imported Italian mosaic to the soft lounge seating. The large cocktail space features three custom bars with a sleek black and white design that evolves into the magnificent main reception room, complete with a forty-foot long floor-to-ceiling bar and white porcelain French chandeliers. This unique space is the perfect backdrop for the Mardi Gras theme!
2018 Honorees 
King & Queen of Mardi Gras – Dave and Kerri Monnerat
The Foundation is proud to honor Dave and Kerri Monnerat as this year's Royal Couple. As parents of an 8 year old son with intractable epilepsy, the Monnerats are passionat advocates for education, awareness and research to improve the quality of life for people with epilepsy. Dave is the author of the blog Epilepsy Dad  about the challenges and rewards of navigating the unpredictable world of a child with epilepsy.
Charley & Peggy Roach Founders' Award – Richard I. Katz, MD, in memorium
The Foundation lost a passionate advocate when Dick Katz passed away in August 2017. Dr. Katz was a long time member of the EFEPA Board of Directors, volunteered each year at Camp Achieve to introduce tennis to our campers, and lived his enthusisam for improving the care of epilepsy patients through his private neurology practice.  Dr. Katz and his wife, Linda, have generously endowed the Richard I. Katz Camp Scholarship for Camp Achieve since 2013. Thanks to the outpouring of memorial donations, the Katz family and the EFEPA are pleased to continue this endeavor through the Richard I. Katz Memorial Camp Scholarship Fund. We are proud to honor his contributions to the EFEPA and to the epilepsy community by recognizing him in memorium at the 2018 Gala.
Interested in attending the 2019 Gala?  Tickets will be available online at mardigrasphilly.org in December 2018.
Can't make it but still want to support? Click here to donate!
Email development@efepa.org for additional information including sponsorship opportunities.
Past Kings have been 2008 King, Tom McCormick, Vice President of Patient Services, University of Pennsylvania Health System; 2009 King, Stephen Wouch, CPA, CFF, Managing Partner of Wouch, Maloney & Co., LLP; 2010 King, Ted Riss, owner of Riss General Construction; 2011 King, Dr. Mike Cirigliano, Penn Medicine Internist and FOX 29 Health Reporter; 2012 King, Greg Osberg, Publisher and CEO of Philadelphia Media Network; 2013 King, Jim Connolly, CEO of Aeras, 2014 Queen, Mary Meder, President of Harmelin Media, 2015 King and Queen Arthur and Phylis Johnson, and 2016 King Dr. Richard Harner, founding member of the EFEPA and former chairman of the Graduate Hospital of the University of Pennsylvania, 2017 King Ed Christie, COO/CFO Magellan Health. Click here to learn more about our Royal Court.
 Ways to Get Involved
There are many opportunities to get involved with the Mardi Gras Gala including sponsoring a table, individual tickets, or placing an ad in our program book. To learn more about sponsorships contact the EFEPA Development Department at (215) 629-5003 or development@efepa.org.