November is National Epilepsy Awareness Month and the Epilepsy Foundation Eastern Pennsylvania is spreading the news and asking our 18 counties to join us in awareness.
The EFEPA organized many ways you can participate in National Epilepsy Awareness Month. We will be kicking off the month with an awareness campaign, including Philadelphia's skyline going purple, posters on SEPTA's Regional Rails and fun contests and photo challenges on the EFEPA Facebook page. Ask a friend to attend the EFEPA's annual Exchange on November 12th, a support group, or a 3rd party fundraisers held throughout the region. Regardless of how you participate, you will be joining us in the fight against epilepsy.
Check back on this page for updates throughout November.
Buildings Lit up in Purple in November: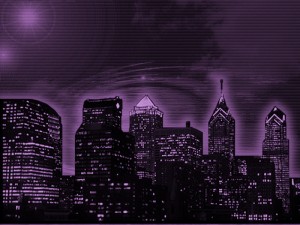 One Liberty Place – All Month
Two Liberty Place – All Month
Ben Franklin Bridge – Nov 21- 30
Cira Center – Various days throughout the Month
National Constitution Center – All Month
PECO Lights – Nov. 14-16
Philadelphia College of Osteopathic Medicine – All Month
Philadelphia Inquirer Building – All Month
Police Headquarters – All Month
Strawberry Mansion Bridge – Last two weeks of the Month
Keep checking back as we hope more buildings will get involved.
Media
Lettor to the Editor: One effective way to share your story is to write a letter to the editor of your local paper. Use this template and edit it to make it your own! Be sure to add details about how epilepsy has affected you.
Epilepsy Awareness Month Press Release: Let your local paper know about all the EFEPA happenings this month by sending them a press release. You can also use this as a resource for information to write in your Letter to the Editor.
Facebook Contests in November
November 1 – Join EFEPA in their November Epilepsy Awareness Month celebration by posting a purple ribbon  as your profile picture! Keep it as your profile picture for the month and you'll be entered in a raffle to win
November 7 – I spy something purple. Take a picture of the closest thing purple and post on our page. All pictures will be entered into drawing and winner receives a prize.
November 14 – If a someone likes our page during this week, they will be entered into a raffle to win a prize.
November 16 – Buildings in Philly are lit purple in honor of Epilepsy Awareness Month. Post a picture of one of the buildings to be entered in a raffle to win a prize.
November 21 – We're thankful for a great year of programs, advocacy and raising awareness of epilepsy. Post a picture from one of our programs or events you have attended to be entered to win a prize.
Throughout the month, we will be posting facts/statements about epilepsy and seizures that we want you to repost and share.
3rd Party Awareness and Fundraising Events
Dominick's Pizzeria & Italian Restaurant will be donating 10% of the bill to the EFEPA when you bring in this certificate Sunday- Thursday throughout the month of November.  Must present this certificate at time of payment.
Nickels for Non-Profits at Whole Foods in Jenkintown will be taking place over the next four months. Take the nickel you receive for reusing a shopping bag and donate it to the EFEPA. The Foundation will also hold monthly information nights at the store.
Carlucci's in Yardley will be donating 15% of the bill to the EFEPA on November 28th, throughout the day including takeout. Voucher's will need to be present at the time of payment. Click here to print voucher.

Creative Soles in Spring City, PA is hosting a "Donate & Sign Your Name to a Flame." The flames will be posted throughout the dance studio along with epilepsy first aid posters. To be held the first 3 weeks of November.
Lords & Ladies Salons, throughout the Philadelphia Suburbs, will be donating $10 to the Foundation for each purple hair extension that is sold throughout the month of November.
Chamaeleon Boutique in Ambler, PA will be hosting Shop for a Cause on November 5th from 10am-5pm.  15% of the sales will be donated to the EFEPA.  They will also be selling raffle prizes to benefit the foundation the week leading up to the 5th (Nov 1st-5th).
4th Annual Bowl-A-Thon "Strike Out Epilepsy", held at Chacko's Family Bowling Center, in Wilkes Barre, PA will be held on November 13th.  Entrance fee is $15 per person. Contact Kathleen Gill for more information. (570) 256-7823.
Interested in holding your own 3rd Party Fundraiser.  Visit our 3rd Party Fundraiser page to learn how you can host your own event!
Epilepsy Education & Information Exchange "Taking Control" Conference.
Saturday November 12th, from 8:30 am – 1:00pm.  Held at Ace Conference Center, 309 Manor Road, Lafayette Hill, PA 19444.   LEARN MORE AND REGISTER TODAY
Support Groups